The AI-based Frustration Score: How to identify & fix user frustration at scale
Even though your site is working exactly as designed, users can still get frustrated. And what's more, this user frustration can go undetected for weeks or even months. But when it comes to sophisticated high-value websites, your teams can't review every single journey, page, or customer session to understand and prioritize all frustration bottlenecks.
So, how on earth can you provide a seamless customer experience if you don't know what issues are hiding on your site? And how can you efficiently harness insights from billions of data points, without spending hours and hours searching for a needle in the haystack?
In today's fast-paced, digitally-driven world where every team lacks time, we need easy-to-understand solutions that use AI to automatically help us provide smooth experiences at scale.
It's not too much to ask for, is it? We don't think so…
Next-generation scoring for every user touchpoint
Cue in Contentsquare's Frustration Score — a transparent, holistic, and actionable score that automatically surfaces points of frustration across any customer, anywhere on your site.

Helping you focus your energy on what's most critical to your customers, Frustration Score is a next-generation element in CS Insights, our solution for automated user experience analytics. CS Insights is already used by hundreds of Contentsquare customers today and has helped them recover millions in revenue. Now, our CS Insights customers can use Frustration Score anywhere within Contentsquare.
"I could not imagine using Contentsquare without CS Insights. It guides us on where to start on our site, focusing on pages with the most conversion loss."


Allix Berkman, UX/UI Specialist, Canon Inc.
How our Frustration Score works
The super-visual Frustration Score identifies the most important sessions to watch and pushes them to the top of the Session Replay list. This means you can immediately look at individual customer experiences and understand their frustrations in detail.
It's not a black box either — you can see exactly what caused the frustration, like whether it's a rage click on a specific button, an error, or multiple attempts to complete a specific form field.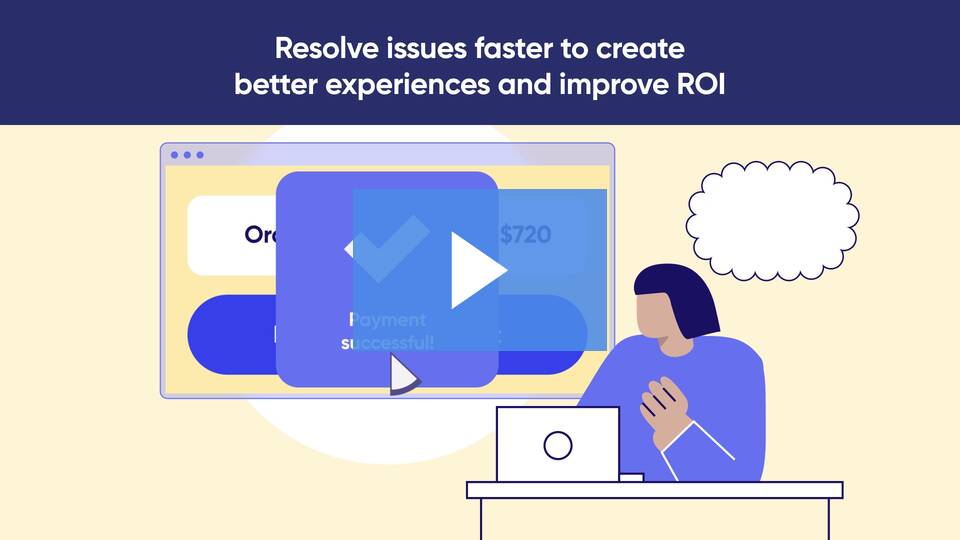 Quantify the impact on conversion and revenue
Here's the real game-changer for our users. Let's say you see an individual struggling with a button or bouncing back and forth between any elements of your site – you will definitely want to know whether this is representative of a trend.
With CS Insights, instead of having to watch dozens of session replays, you can instantly quantify the impact on conversion and revenue. With the click of a button, you see how many other customers struggled with the same content elements and frustrations.
Not only is it a great time-saver but it also helps you prioritize your optimization efforts. You can look beyond just errors, and surface any issue frustrating users, e.g. confusion, struggle with form fields, navigation, and performance.
The best of both worlds
In addition to grouping the most relevant sessions to watch, CS Insights also provides a top-down opportunity report that ranks areas of frustration based on their impact on experience, conversion, and revenue.
This is a great way to identify and fix issues that pop up during releases, site redesign, or promotional seasons, especially for smaller enterprises that lack the time and resources.
"CS Insights is a smart solution in uncovering otherwise hidden issues. Our team is always short on time and it helps us identify the most impactful opportunities with very little effort."

Mélanie GORET, E-commerce Site Manager, Seton Brady
And the best thing (in our opinion), is that it helps connect business and technical teams around common goals, namely making their customers happy. That's what makes it so effective and approachable!
Whether you're in product, marketing, UX, conversion, or error-focused teams, you can find new pieces of information and easily involve other stakeholders to work together towards resolving user frustration.
Ready to combat user frustration with quick insights?
If CS Insights and our AI-based Frustration Score sparked your interest, why not see it in action? Simply request a demo with our team of experts. We'll show you how quick and easy it can be to identify user frustration and improve your digital experience!