UX Spotlight: Using Videos on Clothing Site's Product Pages
In the UX Spotlight series, I post weekly on UX features that impressed me online and are great examples and inspiration for anyone looking to enhance their digital user experience.
UX is the new salesperson. Customers can't feel or try on items before purchasing them online, so it's up to eCommerce digital platforms to provide a user experience that gives shoppers the same confidence and readiness to buy that an in-store exposure to a product would. We found that there is a 50% chance that mobile users will abandon a site after 5 seconds, so there's not much time to make a good impression.
With that in mind, I'd like to share the great experience that I had in White House Black Market's product pages. They have pictures taken from different angles, which has become an industry standard – but they also have videos that really give that in-store feel and create a great experience.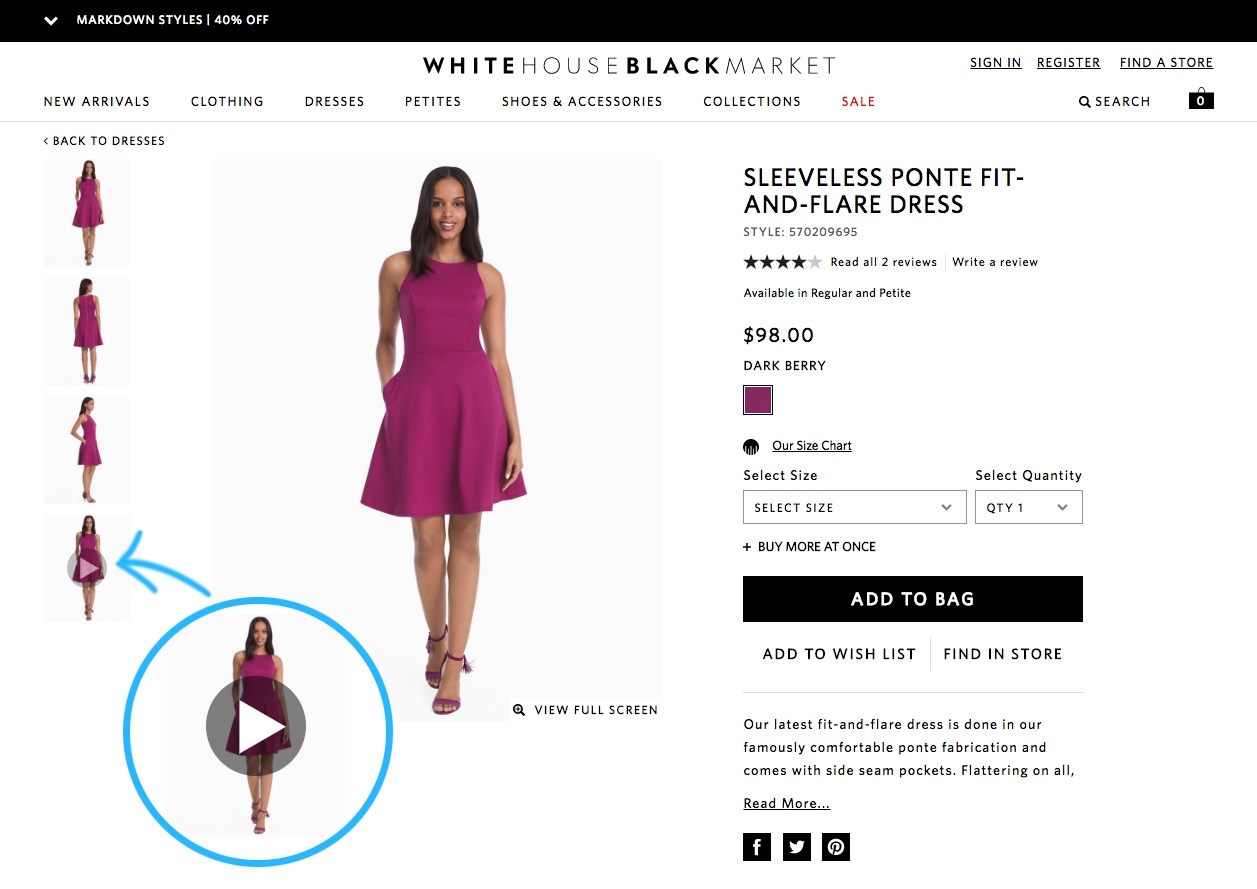 The UX Element: Most WHBM product pages I visited featured short videos of the clothing item in action. Within the product page, below the images, they added a play button. When clicked, an inline video shows models walking and posing in the garments, along with different shoes and accessories. The videos are available on the product pages of popular or new items and directly on some category pages.
The Impact: With online conversion rates so low, brands will try almost anything to improve them. WHBM does an amazing job at this by making it very easy to visualize how an item might look and fit with these videos. I can see the texture and weight of the fabric, how it falls and moves, how it looks in the light, and how it flatters or constrains the body. By making it easy to picture oneself in the dress, they are emulating the store experience and bridging the gap between seeing and buying that other brands may struggle with.
The Takeaway: Video continues to prove it's value both on a personal level, as a shopper, and on a business level, as a marketer.
There's no doubt that in time, the video will be present on all pages like fitting rooms are for physical stores now. But you still have a chance to be ahead of the game. ContentSquare data suggests that 48% of users will exit the site from the product page, so you can start by incorporating videos on all of those product pages. You could even take it a step further and offer multiple models so that shoppers can see how an item looks on different body types or with different accessories.
As with any UX element, make sure you are properly tracking all the changes and results so that when your conversion rates start increasing, you will know what to attribute it to and how to continue optimizing your business.
I am always on the lookout for UX innovation. If you come across a digital experience that stands out, please send it over to pola.zen@contentsquare.com