The 4 Best Online Back-To-School Campaigns
Countless eCommerce merchants spent the entire year preparing and testing iterations of back-to-school campaigns, with the most innovative and attention-grabbing campaigns raking in lucrative returns.
Now that everyone is back in school and the campaign craze is finally over, we would like to share our favorite 2017 campaigns. These are the ones we found most creative, inspiring, and that really maximized the power of digital experiences. Kudos to these companies who, in a nutshell, completely nailed it.  And here they are!
#1) King of Convenience: Staples
Staples has been in the back-to-school game for decades, and has adapted to the digital world thoughtfully. One reason Staples has managed to remain competitive as commerce shifts away from brick and mortar stores is its foundational ability to recognize not only its consumers' pain points, but also the pain points of the industry at large.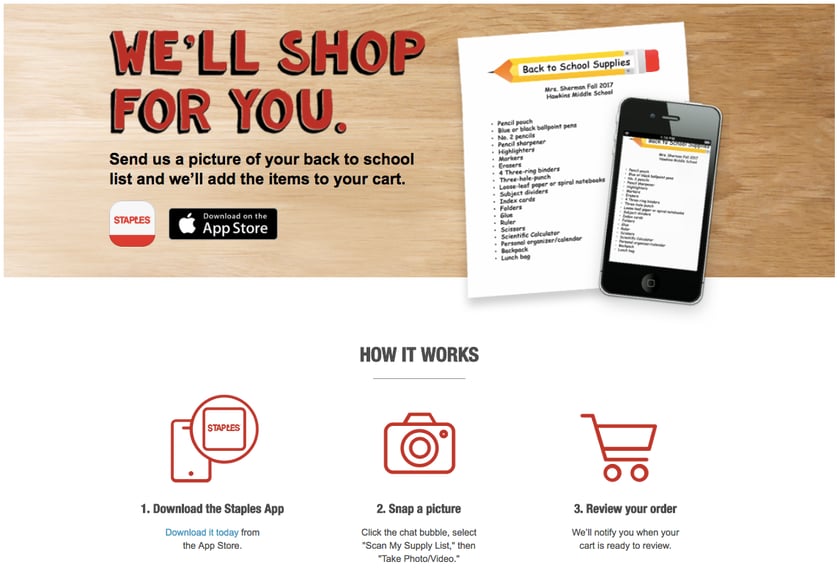 Customers can snap a picture of their back-to-school list, upload it to the Staples app, and Staples automatically adds each item to a shopping cart for customers to review and check out.
Why it works: The biggest pain of back-to-school season? Having to navigate Labor Day Weekend parking lots, track down every picky item on your child's school supplies list, and wait in line to check out. With their new "We'll shop for you" campaign, Staples eliminates each and every one of those pain points. Staples sets itself apart with this complete solution to back-to-school anxiety, and at the same time, gets its app installed on phones galore, giving them a leg up in the competition for that customer's future purchases, as well.
#2) Class Clown: Best Buy
Electronics giant Best Buy made a notable contribution to the back-to-school rush in recent years with their coordinated commercial and mobile campaign featuring comedic actor Adam Devine.
Best Buy has always made an effort to humanize and insert humor into the electronics industry, and its back-to-school campaigns were no different. By creating a short series of videos titled "How to College with Adam Devine," Best Buy was able to make a lasting impression on high school seniors, college students, and general fans of funny short videos.
https://youtu.be/EiFg7Vc08vk
These videos aimed at helping new college students navigate a new world of first-time experiences and awkward situations with comic levity, while simultaneously introducing relevant Best Buy products.
Some credit is due to Best Buy's selection of Adam Devine for this particular role. As one of the stars of Workaholics, a Comedy Central show about three college friends entering the workforce, Devine was able to bridge the gap between Best Buy and a new generation of college students.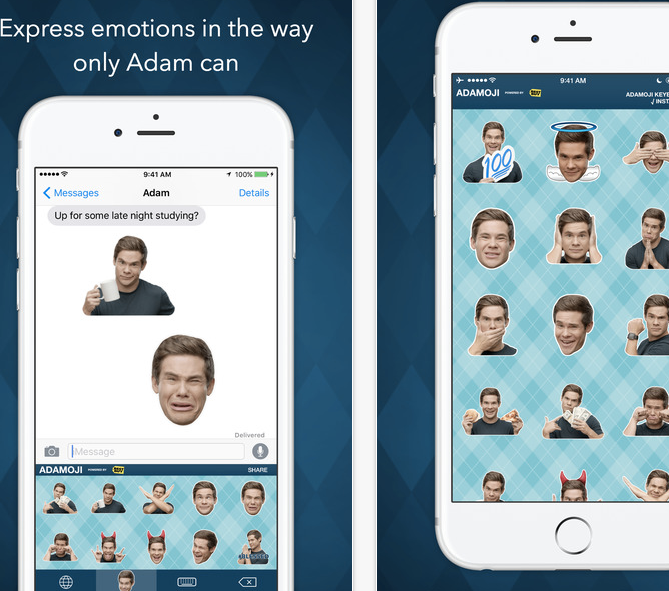 Best Buy carried the campaign into their mobile experience. The introduction of "Adamojis," exclusive emojis containing Adam Devine's expressions and funny faces, made it easier for a young audience to associate Best Buy with a hip celebrity. Best Buy's release of an emoji app also showed an intimate understanding of their target audience.
Why it works: Best Buy's campaigns were an effective way to build their brand with a new generation of college students. With an omnichannel approach utilizing YouTube, mobile apps, and in-store locations, Best Buy was able to cover a lot more ground with a single initiative.
#3) Advertising through Advice: Walmart
Any good marketer knows that quality content is a great vehicle to introduce products to customers who are otherwise allergic to advertising. Shoppers these days are so inundated by ads that they are likely to ignore obvious marketing. It's up to innovative advertising teams to use more subtle methods to induce product discovery.
"Subtle" and "Walmart" don't usually appear in the same sentence, which is why Walmart's series of back-to-school advice columns are so clever. Pieces like "Girls' back-to-school outfits for a whole week," bento box lunch ideas, and a backpack buying guide provide nuggets of useful info for parents while recommending specific Walmart products.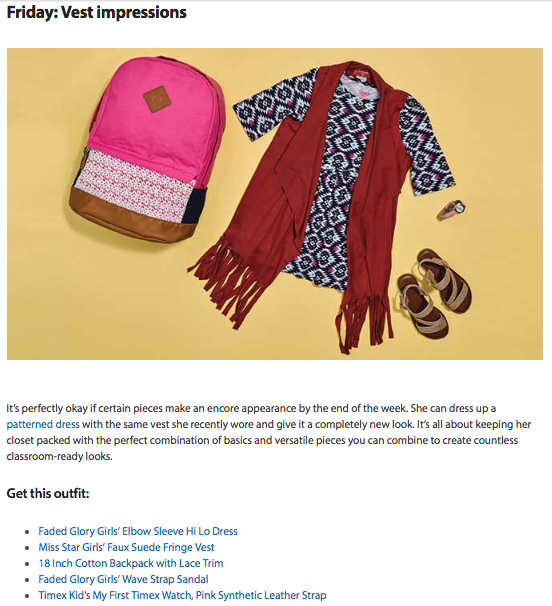 Why it works: Brands like Walmart, which focus on high volume and low prices, can face the problem of customers feeling overwhelmed by choice and fatigued by shopping. Especially online, when the options are seemingly endless, Walmart needs to help customers visualize how items will fit into their daily lives and meet their needs. Giving customers tips for the busy back-to-school season, and explaining how specific items can make the transition easier and fun, is a great way to cut through the consumer fog and connect shoppers with products.
#4) Bundling Boss: Bed Bath & Beyond
When it comes to stocking a dorm room, there's never been a better time for bundling. First time college students and their parents can only guess at what a modern college freshman needs at their new home away from home, and retailers have the opportunity to help them think of all of the essentials and each of the extras that will make sure they're at their best and comfortable in their new space.
Bed Bath & Beyond featured a selection of well thought out and creative bundles they call "starter packs," with the funny and relatable slogan: "When you just can't even, we can help."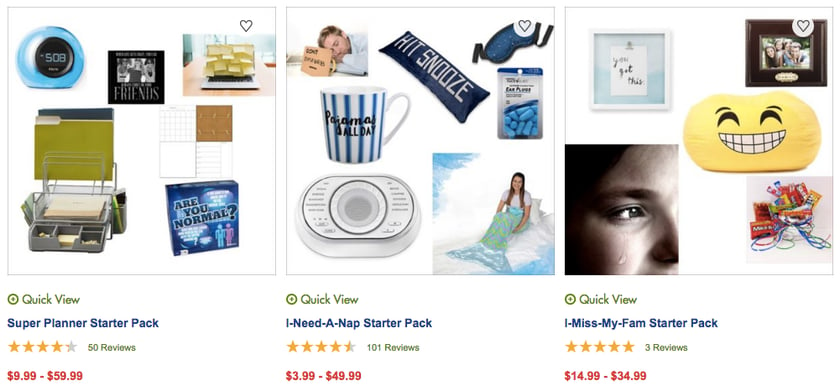 Some favorites include the "anti-freshman 15" which features dumbbells, a mini juicer, and other wellness items, and the "I-miss-my-fam" which includes picture frames, sweets, and other comfort items.
Why it works: The campaign is eye catching and tugs at the heartstrings with its clever nod to how overwhelming and emotional it can be to move away from home (and to move your children away from home), and funny and comforting with its product titling and selection. It cleverly communicates, "When you feel homesick, you'll need these items," and "When you have a hard time focusing, you'll need these items," which illustrates how their products can help specific states of mind – which at the end of the day is what every shopper truly wants, to feel better and to feel happy. Bundles are the perfect way to deliver products to consumers who don't know yet what they'll need in order to feel good in a new situation, like a new school setting.
In Conclusion
The best back-to-school digital campaigns shoot for extremely effective targeting that brings visitors to a clear communication of the specific value of their products, while seamlessly introducing them to their shopping experience.
Savvy merchants understand their audiences and are willing to go outside the boundaries of traditional marketing and get a little creative. A successful back-to-school campaign directly addresses customer's needs while tapping into the excitement and high emotions of the season of transitions.