Buying energy online is still a relatively new concept for many, even as other services — including phone, banking, etc — have made the transition to digital. But in this bright new future where everything is just a click away, the energy sector is next in line for a digital revolution.
That's why global energy company Gazprom — the world's largest producer of natural gas — has been preparing to meet the challenges of a digital future head on. Gazprom Energy, which is based in France, specializes in selling natural gas to business professionals. Anne-Laure Daniel, marketing manager for Gazprom Energy, says the B2B energy market is on its way to making the transition.
Of the company's 1,200 employees, 350 are dedicated to retail, says Édouard Ibled, sales and marketing director for France. And with more and more business happening online, the challenges faced by retail teams are greater than ever.
"We decided to work with ContentSquare for their expertise in the B2C market, but also for their user-based approach, and the very high quality of the feedback and the proposals," says Julien Tamssom, head of retail at Gazprom Energy.
Thanks to its innovative digital experience insight technology, ContentSquare allows businesses to visualize their clients' journeys through digital platforms — identifying each page's strengths, but also flagging any friction points that may cause a prospect to drop off.
WITH CONTENTSQUARE INSIGHTS, OUR DIGITAL TEAMS WERE ABLE TO COME UP WITH A SIMPLIFIED, CLEARER FORM, INCREASING 48% ON THE SITE'S CONVERSION RATE.

An evidence-based interpretation of user flow enables teams to better understand their customers' needs and expectations. And in this era of digital convenience, meeting those needs and expectations is central to a successful user experience — and by extension, to a healthy conversion rate.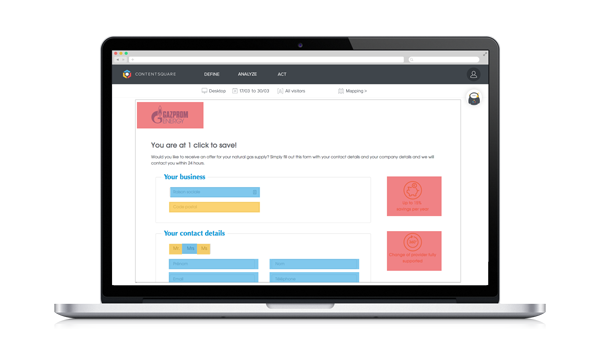 One of the issues highlighted by ContentSquare was the amount of time it took potential Gazprom Energy customers to fill in the inquiry form. With data-backed evidence of this challenge, digital teams were able to confidently address the issue, and come up with a simplified, clearer form. Marketing Manager Anne-Laure Daniel credits this makeover with a whopping 48% increase to the site's conversion rate.
For Daniel, the implementation of the ContentSquare solution marks a shift "from instinct to data." This shift has also had a tremendous impact on the company's large retail team. Indeed, working from the same behavioral data makes for a more cohesive approach to optimization.
To watch the video of Gazprom's digital transformation, follow this link.