Apparel
|
Automotive
|
Beauty & Cosmetics
|
Design & UX
|
Digital Marketing
|
Energy
|
Fashion
|
Financial Services
|
Gaming
|
Grocery
|
Home Interiors & Technology
|
Luxury
|
Retail
|
Travel
"How can your site be a trusted environment for your customers? The goal is to ease any doubt when purchasing online by providing users with the answers before they even ask the question. Reassurance elements are the foundation of a successful user experience, especially when customized according to the audience and target countries."

Fanny Pourcenoux, Lead UX & UI Designer
Reassurance basics
When it comes to reassurance, three elements are essential for online retailers:
Customer service number: Subtly placed in the header and at each stage of the checkout, a customer service number offers users the possibility to contact a representative at every moment. On a mobile website, it's important to take advantage of the ability to call directly.
FAQ allows users to find answers to common questions without the need to speak with a customer service representative. It is an excellent communication tool and reduces the load on customer service.
Secure payment: a must that it is useful to remember! To reassure users, present the logos for accepted methods of payment from the cart page and make sure that security is optimal: secure https  protocol, secure server SSL padlock icon, etc.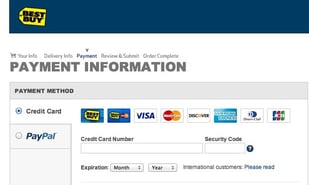 A study performed by ContentSquare detected the presence of on average 3 choices of payment methods on e-commerce sites, knowing that the possibility of using their credit card or a Paypal account provide full satisfaction to the users. If your site is available abroad, remember that Internet users browsing habits and expectations may differ!
Customize your payment methods according to your target: bank transfer to the B2B sector, against-reimbursement/payment on delivery in Spain, debit (ELV) in Germany, cash payment for Russia, etc.
Delivery options: the price of delivery remains at a premium for internet users.To avoid shopping cart abandonment, be transparent on the delivery policy. If you offer free delivery, make that known from the beginning. If not, make sure the user is aware of the delivery charges (i.e. using a standard price), so that they are not surprised during checkout and the risk of abandonment is reduced. Specify a proposed time and the location, whether it is delivered at home, relay point, expedited shipping, or in-store pickup.
Other reinsurance elements that make the difference
Customers are increasingly demanding with regard to e-commerce sites and the protection of data is very important to them. To convince them, highlighting some of these elements could facilitate purchase:
Return, exchange and product warranty policies
Protection of personal data in particular during form completion
Control certifications are sometimes necessary especially in Germany where the TÜV is an institution
Creation of full page details by reinsurance element can provide a comprehensive source of information to reassure the most reluctant users;
Double check your About us and Legal pages. More than 2 out of 5 Germans  reads Terms and Conditions before purchasing!
Do not neglect the customer reviews that are crucial in the prospecting phase especially for Spanish users. Social when it comes to shopping, they were the most likely to read reviews before purchasing. To bring more credibility to reviews posted on the site, one of the best approach is to use an external solution like Trustpilot.
Finally, keep in mind that reinsurance does not stop at the payment stage! Attention should be paid to your confirmation pages and emails to ensure customer trust until receipt of purchase.
Where to place?
The rule is to always position them in a highly visible area upon arrival on the site and close to the major action buttons. For example, choose the section surrounding the Add-to-Cart button on the product page to include reassurance, as the perimeter surrounding the CTA next step in passage cart page. The use of fixed scroll areas can also be a good alternative to optimize the visibility of these elements. Typically, the area where users will also find them is the footer, do not hesitate to remind them there!
Also, be aware that the presence of an icon is not enough! For efficiency, it must be accompanied by evocative wording as well as additional information on hover or click depending on its location.
The personalization of reinsurance and wherever the user is, of course, a key strength of its confidence building. Indeed, adapting to each step, the relevance of each selected item increases its impact.
For reassurance, think device!
Depending on the devices used by your users, it is essential to adapt your reassurance. On mobile, a tap on customer service should enable the user to directly call the phone number.
Also, your mobile site should be responsive. It is not necessary to retain 10 Reinsurance items on your mobile page. Select the most relevant according to each checkout page and facilitate usability to information.  
While many factors must be taken into account especially regarding payment security, it is not forbidden to innovate and anticipate the questions of online sometimes anxious or frustrated by a lack of access to information simple introduction!
Photo by Corinne Kutz
Stay Updated
Be In The Know