Retail analytics: How to bridge the data divide between retailers and brands 
The retail industry has undergone several transformations in the last decade. With the growth of eCommerce, the traditional high street has changed dramatically with merchandise finding new homes in digital channels – from online marketplaces to social media.
New technologies have paved the way for brands and retailers to connect with consumers, giving rise to innovation and omnichannel experiences. One example is Burberry's social retail store in China's tech capital, Shenzhen in partnership with video game giant, Tencent. The concept takes buyer interactions from social media and brings them into a physical retail environment through a custom program within the WeChat app, such as sharing their own user-generated content, booking appointments, and earning social currency.
Download our Retailers on Retail Report
Read the full article and gain access to actionable insights from 11 retail experts!
Download
In digital-first times, online customer experiences have been a major focus for retailers. Amazon is one stand-out example of a customer-obsessed organization that continues to transform retail offerings – even expanding service channels from online shopping to bricks-and-mortar stores.
And consumers too have more power in their hands – they are better connected and therefore more knowledgeable, using data and technology to inform their shopping experiences. They are genuinely curious and want to know everything about a product or service before adding to cart. This shift in the balance of power between consumers, retailers, and brands has disrupted the traditional path to purchase; customers prefer to 'pull' information rather than have businesses 'push' it to them.
We have seen all these new digital experiences and interactions come to life. But the big question is – what's happening to all that data?
Why is big data in retail important?
The convergence of data from several sources and customer touchpoints has shifted the brand-retail-consumer relationship. With the convergence of increased technology adoption by consumers and omnichannel shopping experiences, the data derived from these interactions has become critical across the entire retail value chain.
According to Statista, in 2021, retail e-commerce sales amounted to approximately 4.9 trillion U.S. dollars worldwide. This figure is forecast to grow by 50% over the next four years, reaching about 7.4 trillion dollars by 2025.
Customer retention
Online businesses are constantly looking for ways to retain customers. These companies will no doubt have an endless supply of data to analyze consumer behavior – from understanding consumer shopping habits to generating customer recommendations or personalizing shopping experiences.
The retail industry is one we know well at Contentsquare, working with some fantastic brands such as Sweaty Betty, Clarks, Dune, and New Look. What all these brands have in common is they realize that to provide a compelling customer experience that increases retention, they need to understand their customer behavior…
Understanding customers
With almost one in two retail visitors bouncing after just one page, brands are feeling the pressure to provide an experience compelling enough to make their customers stick and come back for more. They want to understand what products people are adding to their shopping cart, the average number of clicks per page, get insight on peak shopping times, and identify potential problems before a customer abandons the site. With the overcrowded marketplace and competition higher than ever before, this kind of insight into consumer behavior is invaluable to both retailers and brands.
However, it's not really about how much data is gathered. But what are you going to do with it? How can retailers and brands bridge the data divide to create new revenue streams and improve customer journeys?
A shared retail analytics platform: Opportunities to be better together!
While most brands' digital selling is through retailers, they lack insights into buying behaviors. It could be argued that the customer relationship is typically owned by eCommerce retailers and brands now want in on the experience insights gained.
By combining customer data, brands and retailers can enable better analytics for greater operational efficiencies. For retailers, this rings particularly true when it comes to category management:
What are the fastest moving products in certain areas?
Which stores have the best sales performance?
What should pricing be?
How many product categories should be considered?
In the eCommerce environment, brands must have the best insights to improve product searchability on retailers' websites. It goes without saying, that with consumer behaviors rapidly changing, the collaboration between retailers and brands is key to survival and growth.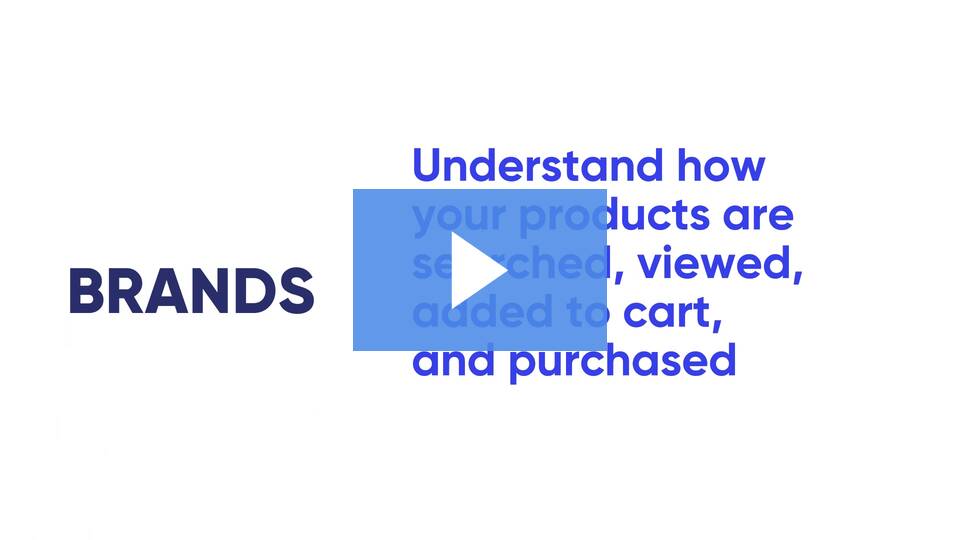 But there are also considerations for both brands and retailers when it comes to sharing intelligence:
For retailers
They want to share data in an easy and actionable way with the brands they resell
They want full control over which brands have access to what, at which condition
They want to increase the business of their partner brands and drive overall performance metrics
For brands
They want to understand how their brand and products are searched, reached, added to cart, and purchased on retail websites
They want to benchmark performance against competitors and categories overall
They want to inform and fact-check marketing and media decisions from exclusive intelligence
A single view of customer data with retail analytics
According to Forrester, insights-driven organizations grow eight times faster than global GDP. Insights are clearly a differentiator and retailers are privy to a wealth of data that may be sitting in different systems and platforms.
Having the capabilities to unify that data and provide a single view is the way forward. At Contentsquare, we're bridging the data gap for retailers and brands with a shared Experience Analytics Platform. Book a demo with us to find out how you can optimize your online sales today.