As our global populations grow conjointly with our accessibility to the various corners of the globe, more and more people are expanding their cultural horizons through travel. In the near future (2030), the global population will grow by an extra billion people of which 20% will be travelling*. And as our technologies becomes more advanced, more and more people are looking to the web to begin these cultural journeys, leaving traditional booking agents in the ashes. Thankfully customers looking to book a holiday are in no shortage of choice, as early adopters of the web such as booking.com and Expedia leave neither hotel nor flight undiscovered. Unfortunately this leaves holiday goers with A LOT of choice, so much so, that people are beginning to wonder if it's such a good thing?
Besides bombarding their users with a multitude of choice, (users take an average of 38 visits to multiple sites before visitors make a booking*, the travel industry is clearly plagued with options) it isn't such a great thing for the people working in the travel industry either. With so much diversity in the world today, one of the biggest struggles for travel brands is understanding their customer, from age to nationality, there are so many factors at play that they try to cater to the masses, hoping that there will be something for everyone. Unfortunately, this strategy isn't a winning one and some travel sites end up looking a little like a jumble sale. So how can these brands make sure that every single customer sees exactly what they need to see?
ContentSquare's most recent study, Choice Vs. The Traveler indicates that a new generation of behavioral analytics is the key, enabling travel brands to deliver exactly the right offering to exactly the right customer at exactly the right time. Identifying critical customer frustrations for your specific visitor segments within the booking funnel is crucial. ContentSquare data revealed that within the booking funnel, only 25% of visitors who landed on the page requiring input of personal information will actually return to it once they have left, regardless of incomplete fields. The study revealed that adopting in-page trip modifications is key to overcoming this issue.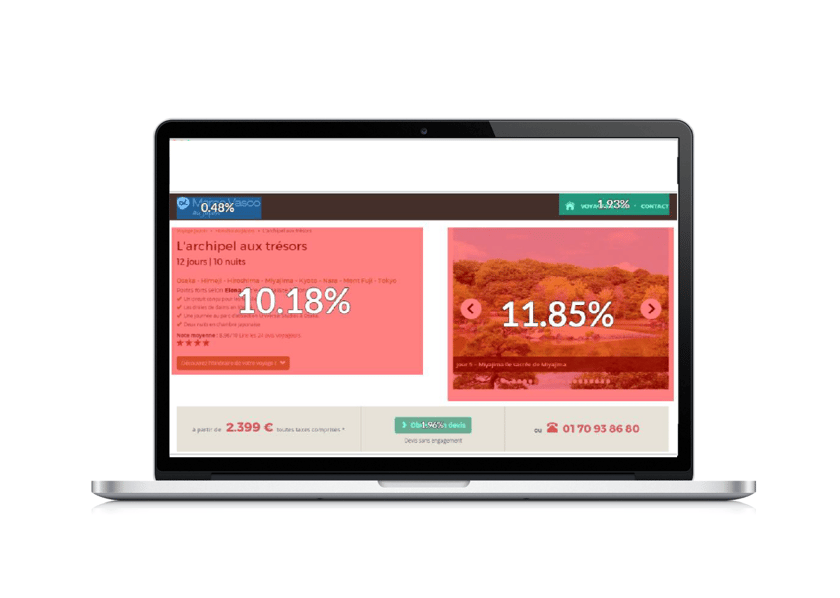 The above image shows ContentSquare's zoning on one of their client's product pages. Our next generation of behavioural analytics has enabled our client to determine exactly which items of content are performing well on their product pages.
Mobile is the newest disruptor for the travel industry and as customers begin to demand more and more of it's integration into their journey, from online booking to mobile tickets, travel brands will have no choice but to up their UX game when it comes to this device. Unfortunately the majority of travel brands are guilty of simply building mobile sites that barely cater to mobile. Little consideration is given to how users are actually using their mobile devices as compared to desktop or tablet. With a mobile conversion rate of just 1.5% (surfaced by ContentSquare), the travel industry is clearly missing out on serious opportunity for outreach and conversion. Mobile is such a delicate issue for users that ContentSquare's report revealed that 1 in 4 mobile users will abandon a site if they get an error message.
As new laws such as flat prices for data roaming in all EU countries begin to emerge, optimising mobile will be key to travel brand's' success. Personalisation is one of the surest ways to ensure that the customer gets exactly what they want from their mobile experience. Unfortunately getting customers to log in to their account, particularly on mobile is one of the greatest struggles that travel industry experts face. A recent study revealed that shoppers are 1.2 times as likely to select guest checkout rather than opting to log in yet logged in users spend 10% more per order, on average*.
With user experience fast becoming the new digital travel agent, digital travel teams will no longer be able to rely on intuition and market research to satisfy their customers' high user experience expectations.
*https://www.moovweb.com/the-truth-about-guest-checkout/
For more insight on how your brand can optimise your site, explore our report, Choice versus The Traveler: