A 2018 consumer survey by the National Retail Federation and Prosper Insights and Analytics estimates that US households are planning to spend $27.5 billion on back-to-school supplies for children in elementary through high school. That's an average $684.79 spend per family.
The same survey found that 77% of consumers are keen to get a head start on their back-to-school shopping, and start stockpiling pens and notebooks at least three weeks before the start of the new school year.
ContentSquare analyzed 61 million early back-to-school shopping sessions spanning a month to gain a better understanding of this highly profitable market segment.
Top Items for Back-to-School Shoppers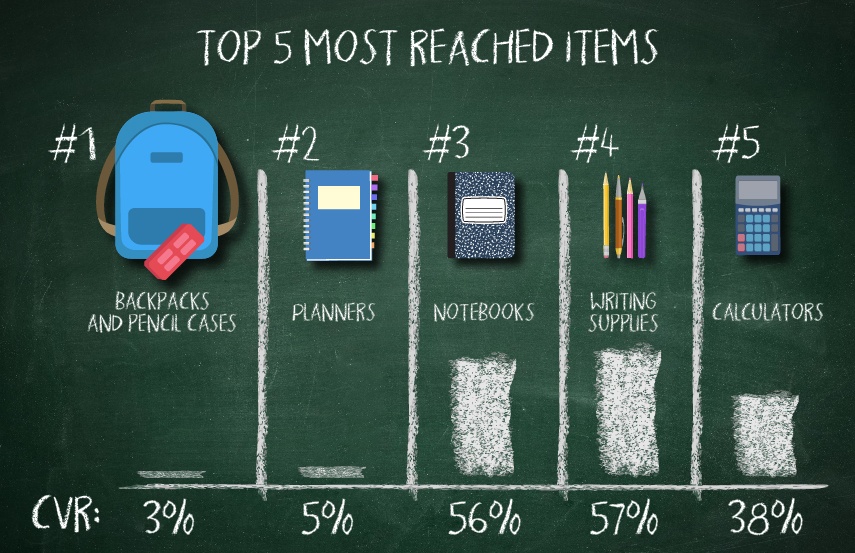 Our data shows that early bird back-to-school shoppers are mostly browsing for backpacks and pencil cases, followed by planners, notebooks, writing supplies and calculators. But while proactive consumers are mostly checking out backpacks and other statement-making accessories, that's not what they are spending their money on.
In fact, when it comes to conversions, the table flips, with bags and planners recording the lowest CVR of the lot (3% for backpacks and pencil cases and 5% for planners). The items with the highest conversion rate when reached are pens and pencils (57% CVR), followed by notebooks (56% CVR) and calculators (38% CVR).
The early shopping period, it seems, is most conducive to stockpiling on essentials while surveying big ticket items like school bags, which will be purchased at a later date. Offering special deals on necessities will allow brands to capitalize on the early bird segment. Creating content around trending items and highlighting most popular products will encourage consumers to make higher-involvement purchase decisions.
Allowing consumers to save items to a wish list or optimizing the shopping cart so it saves items are also great ways to make sure all that early prospecting of backpacks and planners doesn't go to waste. Displaying product availability or a watch count can also help generate a sense of urgency around items, and hurry your on-the-fence consumers.
Turning Non-Buyers Into Buyers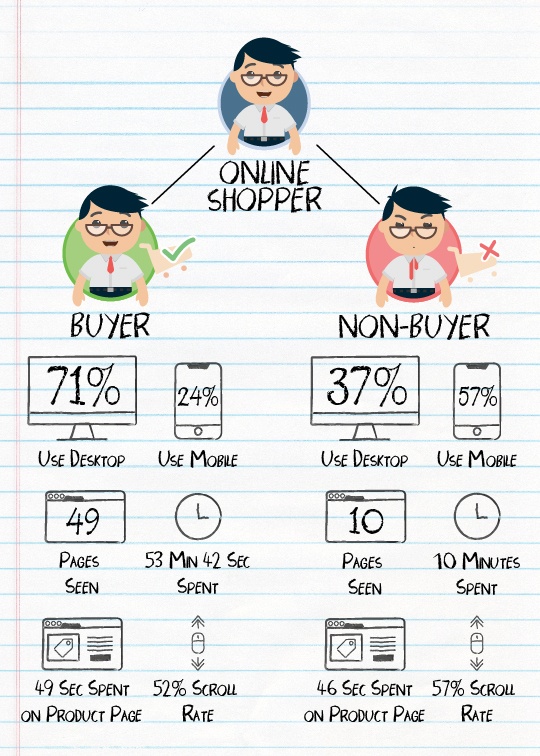 Converting early back-to-school shoppers will spend almost an hour browsing a site (53 minutes and 42 seconds). In that time, they will view an average of 49 pages. The data shows they are clearly hungry for content and information, spending an average 49 seconds on a single product page. Converting shoppers mostly browse on desktop (71%), with only 24% of them completing their purchase on a mobile.
More than half of consumers who abandon their shopping journey are browsing on their smartphone (57%), suggesting brands are still not delivering a satisfying enough mobile experience for their on-the-go audience. These non-converting shoppers also spend significantly less time looking at products (an average 10 minutes), and view only 10 pages during their navigation — 80% fewer than their converting counterparts.
Converting shoppers also record a 52% scroll rate — meaning half of the page content is not consumed. Non-buyers go a little further down the page, with a 57% scroll rate, but that extra 5% is still not enough to encourage conversion.
Mobile traffic accounted for 52% of the sessions we analyzed, indicating a willingness to purchase on smartphone. But as mobile traffic increases, flawed mobile experiences just don't cut it anymore. In order to keep customers engaged all the way to checkout, brands must invest in fluid and intuitive journeys that address the unique needs and expectations of a mobile audience.
Short forms, easy navigation between products, and a simplified checkout funnel are key. Making essential product information visible and clearly displaying reassurance items will also prevent customers from tuning out or getting frustrated.
For more tips on how to optimize the digital experience for back-to-school shoppers, read our special report.
Stay Updated
Be in the know. Subscribe to this blog.