UX Spotlight: Sephora takes customers by the hand with friendly How-to videos – gb
In the UX Spotlight series, I post weekly on UX features that impressed me online, and are great examples and inspiration for anyone looking to enhance their digital user experience.
Beauty products and their marketing are often aspirational in nature, which is a good way to create a sense of longing around a product and a lifestyle. That said, it sometimes takes a little extra boost to help shoppers picture how a product could fit into their daily lives. Even if the product is great, if used incorrectly, the buyer will not be satisfied. Therefore, a brand must work not only towards encouraging a purchase, but also towards ensuring a great result. Since applying makeup (or using tools, materials, etc) is a learned skill and not an intuitive one, how-to videos can ensure that a customer will use the product properly, will be satisfied with the purchase, and will return for more or recommend it to friends.
That's why this week I want to showcase Sephora's extensive selection of how-to videos. Each video features an expert casually giving all the steps for creating a certain look or makeup effect using Sephora's line of products. These videos make it seem like the path towards a beautiful look is quick, easy and accessible.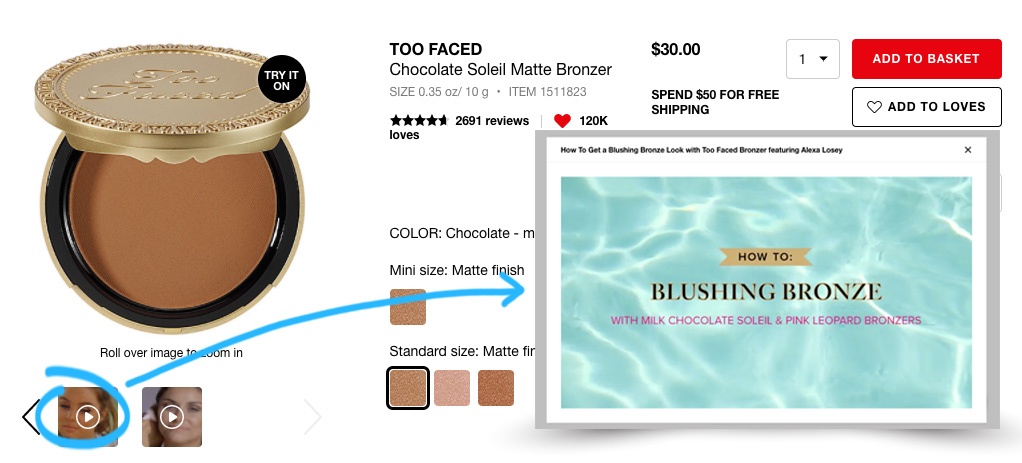 The UX Element: The majority of the Sephora product pages I visited feature short how-to videos of different uses or techniques to try out with that product. Within the product page, below the main item image, they added a selection of how-to videos. When clicked, a makeup consultant, celebrity, or other influencer gives examples of different ways to use the product at hand and suggests other product pairings that can be used to achieve different looks. Each video is tailored to their target audience, both in language and production value, and show that anyone can create a professional look with a few simple steps.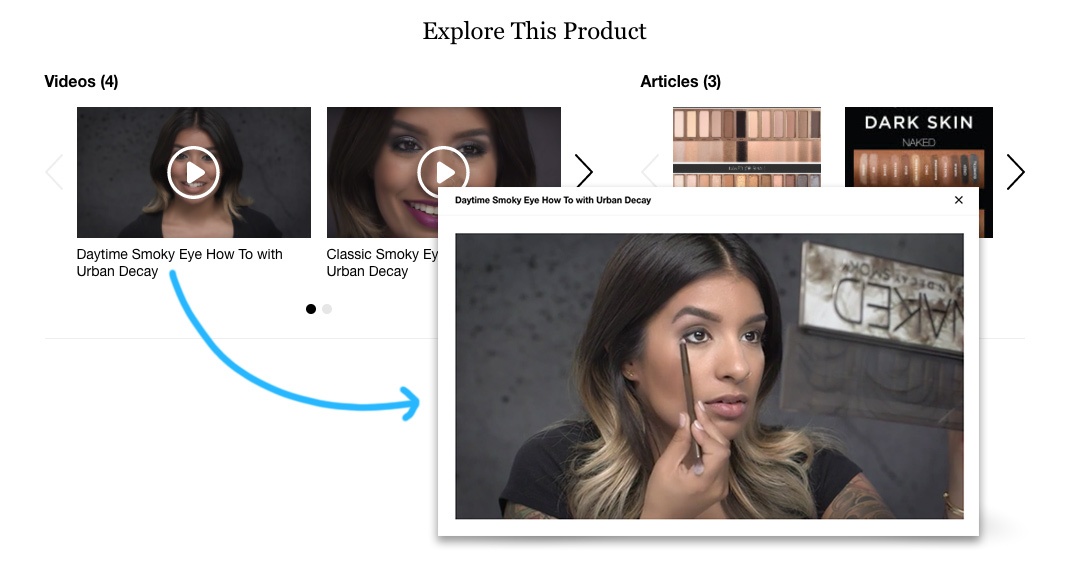 The Impact: Since satisfaction with beauty products depends on a customer's ability to use them correctly, training through how-to videos greatly increases the odds of them being satisfied with their purchase and feeling happy with their experience and the brand.
A long-term value of how-to videos is the impact they have on engagement. Once the product arrives, customers will want to revisit their favorite how-tos and try them out. This means that engagement with the brand is extended well beyond the product delivery date, which will lead to return visits, and, if handled correctly, results in return shoppers and brand loyalty. Furthermore, by suggesting product pairings, brands offer an easy and authentic way to potentially upsell.
How-to videos are an especially great way to build up brand loyalty among mobile users, who are notoriously less loyal than desktop users. Even though mobile will soon surpass desktop in terms of eCommerce sales, the average mobile shopper returns to a site only 3.4 times compared to 5.8 on desktop, and mobile users are 4x less likely to login to an existing user account (one of the classic methods of building brand loyalty online) than desktop users. A great how-to video that customers can bring to the vanity with them (or into the garage, or the sewing room) on the go increases repeat traffic and brand loyalty even – or especially – among mobile users.
The Takeaway: How-to videos are a major boost for any product that requires a special skill set that many shoppers don't have—but won't necessarily admit to not having, whether that be makeup, technical equipment, craft supplies, and anything in between. They are a great opportunity to build thought-leadership for your brand, market your products, and connect with your brand ambassadors. Offering valuable content that is useful and immediately applicable encourages genuine engagement which breeds loyalty. If you want to go the extra mile, you could even invite customers to share their own how-to videos to cultivate quality, authentic user-generated content for your product pages.
HOW-TO-VIDEOS ARE A GREAT OPPORTUNITY TO BUILT THOUGHT-LEADERSHIP FOR YOUR BRAND, MARKET YOUR PRODUCTS, AND CONNECT WITH YOUR BRAND AMBASSADORS.

Keep an eye on the data to see how investment in marketing strategies, like how-to videos, pay off. Make sure you analyze checkouts and other KPIs to track their impact on your conversion rates. In particular, you'll want to check user times on site and analyze if they increased with the addition of video. Deep diving into your customer journey will determine how much the video is influencing the customer to buy, and don't forget that the impact of how-to videos will also be seen over time. As customers repeat due to the value added beyond the product itself, it's likely your site will welcome these customers again when they're looking for the next best thing.
I am always on the lookout for UX innovation. If you come across a digital experience that stands out, please send it over to pola.zen@contentsquare.com