UX Spotlight: ModCloth Cultivates a Shopping Community with Clever Use of Generated Content (UGS)
In the UX Spotlight series, I post weekly on UX features that impressed me online, and are great examples and inspiration for anyone looking to enhance their digital user experience.
One of the biggest barriers to purchasing clothing online is the inability for shoppers to try items on before purchase. ECommerce stores are constantly innovating to overcome this obstacle, and one of the best strategies also happens to involve sourcing free content.
This week's UX highlight is ModCloth's expert use of User Generated Content (UGC) to increase conversion rates and to build an actively engaged community of shoppers. By displaying customer photos on product pages, ModCloth eases customer concerns about a product, increases the chances a customer will be happy with their purchase, and encourages customer engagement.
The UX Element: ModCloth product pages feature an "Explore & Shop Outfit photos" gallery below the main professional product photos. This gallery is entirely made up of customer photos submitted as part of voluntary reviews. These photos also appear within customer reviews at the bottom of product pages: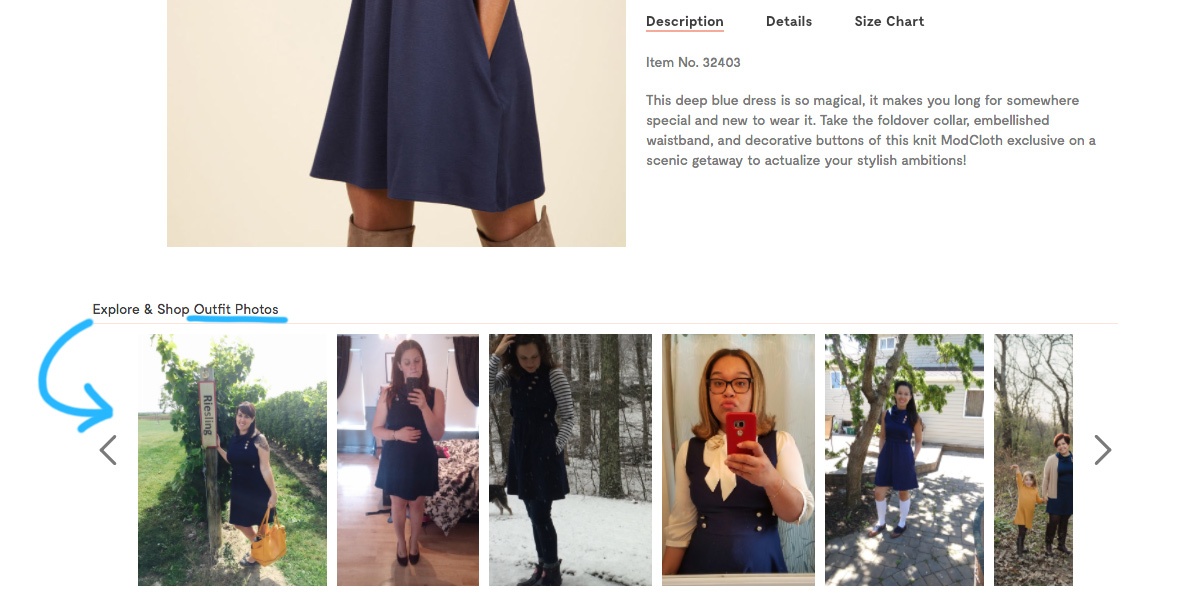 The review template prompts customers to fill in sizing details along with their critique of specific attributes of a product such as length and quality. The combination of stats plus photos enables potential buyers to very accurately evaluate how an item would fit or suit them, by finding a reviewer of a similar size, skin tone, or style and seeing how they liked the product and looked in it.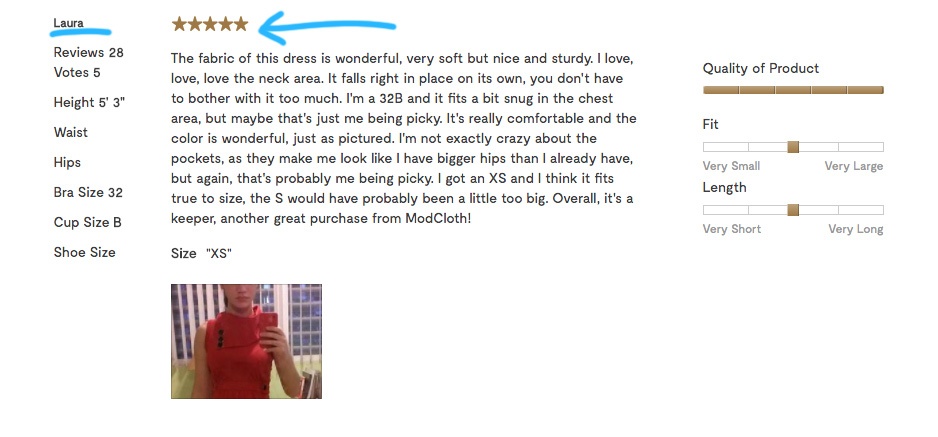 The Gallery:
Furthermore, if you click on a reviewer you find interesting and relate to in terms of sizing and style, you can view a gallery of the products they've tried out: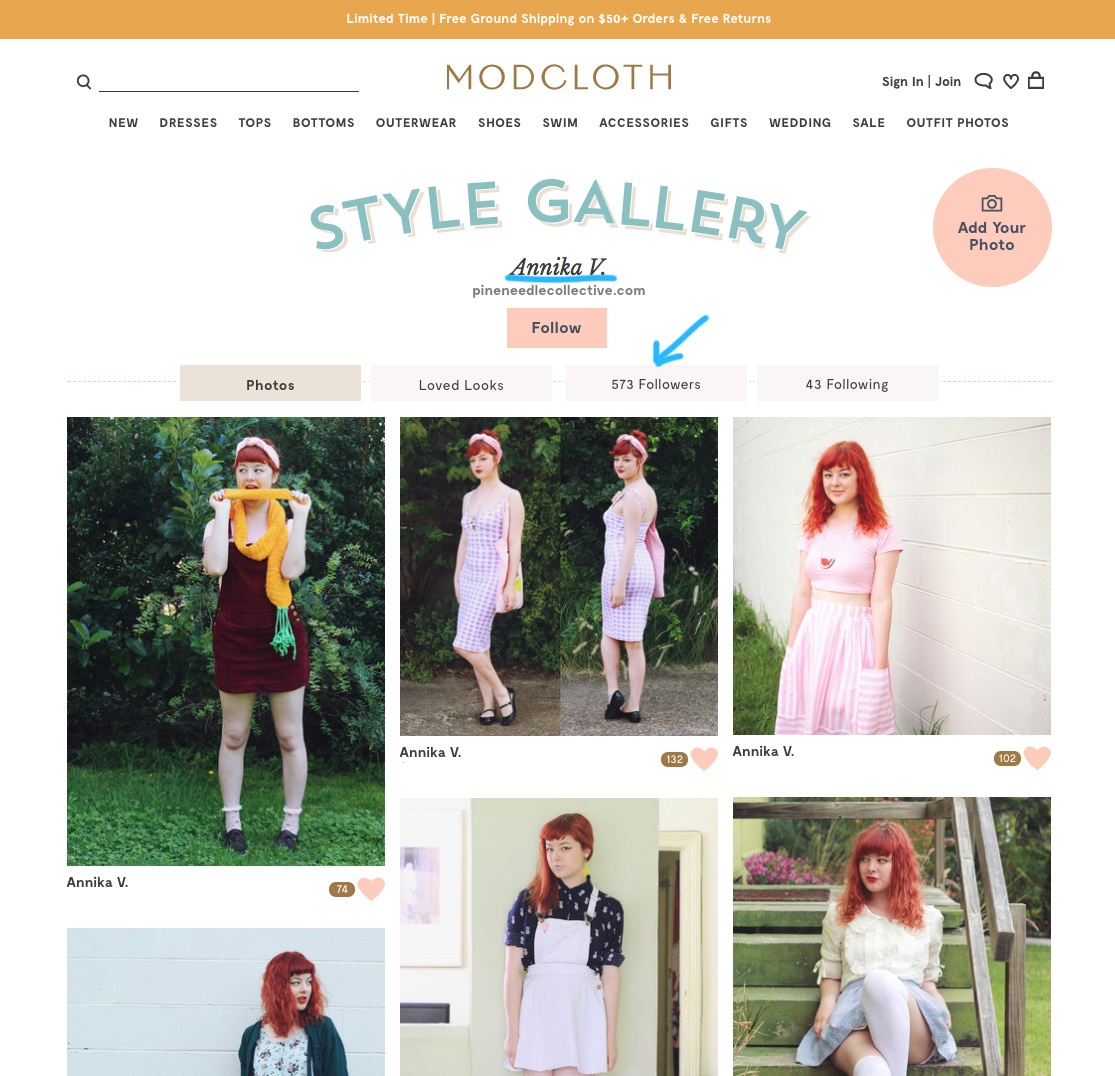 The Impact: Easing a customer's mind at checkout is more important than ever, as more and more eCommerce sales come from mobile, and mobile users take 69% more time to complete checkout than desktop users due to lack of purchasing confidence. This layered use of UGC has a tremendous impact.
First, the ability for users to see how a product fits a real person just like them removes the risk that they will frustratingly buy a product that doesn't fit, and I'm sure lowers return rates.
Next, user profiles with their favorite items create amazing customer engagement, loyalty, and eventually brand ambassadors as users post their looks on social media with links to their profile. Spotlighting star shoppers also encourages new customers to get involved and post their own photos and reviews.
Finally, these brand ambassadors upsell for brands by pairing different items and accessorizing with other brand products.
BY DISPLAYING CUSTOMER PHOTOS ON PRODUCT PAGES, MODCLOTH EASES CUSTOMER CONCERNS ABOUT A PRODUCT, INCREASES THE CHANCES A CUSTOMER WILL BE HAPPY WITH THEIR PURCHASE.

The Takeaway: UGC is powerful because it's an authentic, word-of-mouth voice, which today's (and tomorrow's) shoppers crave. Customer satisfaction with a product is based on how closely a purchase met their expectations, and offering a wide array of UGC posted by a range of people with different traits and interests accurately shapes shopper product expectations while generating excitement and engagement around a brand.
To execute this approach you'll need to have a system in place to inspire UGC, from getting the ball rolling with social media contests to targeted post-purchase e-mails with review requests. You'll want to track the ratio between time spent browsing UGC galleries and conversion rates to see how adding user photos really impacts your bottom line. You should also analyze the correlation between users who upload UGC and their rates of repeating as customers. This approach can both sway new shoppers and increase brand loyalty among your existing fan base.
I am always on the lookout for UX innovation. If you come across a digital experience that stands out, please send it over to pola.zen@contentsquare.com