Driving Innovation: How Brooks Bell is Helping Brands Achieve Experimentation Excellence
Can you tell us a bit more about Brooks Bell?
Founded in 2003, Brooks Bell is a consulting firm focused on building world-class experimentation programs for enterprise brands.
Working out of our headquarters in Raleigh, NC, we've spent the last 16 years helping companies better leverage their data, technology, and workforce to learn about their customers and deliver a smarter and more profitable online experience.
Our team is 43-strong and made up of creative thinkers, data scientists, developers and strategists. Everyone—from our operations team to our senior leadership—has a genuine appreciation for the art and science of optimization and a deep understanding of the challenges of experimentation at top-tier companies.
Our client roster consists of many large enterprises and recognizable brands that have trusted our team to assess their experimentation maturity and consult on multi-year "test and learn" roadmaps to achieve true customer-centricity.
What are some of the different ways you work with businesses?
Most of our engagements begin with a maturity assessment to benchmark and measure the growth of an experimentation program. This comprehensive, data-driven review scores your program against our proprietary framework consisting of six main categories: culture, team, technology, process, strategy and performance. The results of this assessment are used to create an actionable roadmap to get your program to the next level. What that roadmap looks like and the scope of our services depends on where your program lies on the maturity spectrum.
For clients that are very early in their experimentation journey, we offer a "we do, they watch" type of partnership. In this, our team comes in and fully manages a client's experimentation program: learning their business and customers, organizing data, building a strategy, launching tests and analyzing and reporting the results. This partnership model is most effective for programs that need to prove the value of testing before going all in.
For clients that are a little further along, we take a more collaborative approach focused on educating what is needed to build a high-functioning program In this type of partnership, our team works alongside theirs. As we run end-to-end tests, we teach the team our methodologies, practices and frameworks. Through this model, we're able to build the foundational knowledge and practices to set the experimentation program up for scale.
Finally, as the experimentation practice becomes more mature, we transition our services to be less tactical and more strategic. We've helped many clients bring their experimentation efforts fully in-house through building training and on-boarding programs, aligning the experimentation process across teams, establishing an Experimentation Center of Excellence, and offering strategic advice in response to new trends, technologies and business challenges.

How critical is experimentation for driving innovation today?
Critical is putting it lightly. 
In order to compete in today's market, companies need to have a scientifically sound method in place to learn about customers, to change and to innovate—all while limiting risk, streamlining operations and reducing costs. Experimentation offers the best way to accomplish all of that.
That means, for us, our value is not simply in running tests and helping our clients make more money—though that is definitely a major outcome of our efforts (and one that we're very proud of). Rather, our work is about empowering our clients with the data, skills, processes and technology to use testing to glean powerful customer insights AND operationalize those insights across your entire organization.
How do you help brands elevate their experimentation/personalization strategy?
Our Maturity Assessment is really only the tip of the iceberg here. Over the last 16 years, we've built and honed many frameworks, training programs, practices and even proprietary technology to help our clients elevate their testing and personalization strategies.
For instance, after witnessing some very messy brainstorming sessions, we developed our ideation methodology, which provides a guided approach to developing and prioritizing test ideas in a large, cross-functional group.
Our Insights framework offers a method for connecting your experiment results to bigger picture customer theories and insights.
And finally, we built Illuminate™, our testing and insight management software, to help program managers store, share and learn from their A/B test results. Fun fact: Illuminate was originally built as an internal tool to help us keep track of our client's tests. In 2018, after many years of tweaking, testing, gathering feedback (and some rave reviews from our clients), we decided to make it available to the public.
These are just a few examples of how we provide value to clients. I should also add that we host Click Summit, an annual conference where digital leaders gather to swap ideas and share tips on testing, personalization, analytics, and digital transformation.
Click Summit trades in all the typical things you'd find at a tech conference: sales pitches, powerpoint presentations and fireside "chats" held in giant auditoriums. Instead, the agenda is built around a series of small-group (15 people) conversations, each focused on a specific topic.
With attendance is limited to just 100 digital leaders, it's a unique opportunity to tackle your biggest challenges by talking it out with people who have been there before.
What constitutes a good partnership for you?
We love partnering with companies and tech providers (like Contentsquare!) who share our vision of helping our clients find the people within their data and seek to make every day better through optimization.
There are tons of ways in which we can translate Contentsquare's excellent user experience analytics into optimization opportunities.
Here are a few off the top of my head:
Defining and prioritizing your customer segments, uncovering answers to complex questions about your customers and their journeys to and through your website
Uncovering and optimizing the most profitable areas of your website, as well as solving complex UX issues
Building a testing or personalization roadmap using data from Contentsquare as well as other sources
What are your plans for the future?
When Brooks Bell was founded back in 2003, testing was in its infancy. Now, it's rare that we come across a client that hasn't run at least a few tests. This is exciting! It means we get to focus on working even closer with our clients and making a bigger impact.

I'm talking more than just conversion increases and revenue lift. The task before us no longer ends at proving the value of experimentation. We're now in the business of generating insights. By helping companies learn about their customers and fostering experimentation at a cultural level, our clients will be equipped to deliver the best digital experience for their customers.

Investing in experimentation requires taking both a short and long-term view. We look forward to celebrating the day-to-day wins with our community, while also staying focused on the vision of building customer-centric, digitally-forward and insights-driven organizations.

Couture Heavyweight Kenzo Sees 150% Increase In Online Conversion Rate

For many brands today, keeping up with the fast-moving trajectory of digital retail comes with its fair share of trials and tribulations. Consumers are increasingly aware of what they want, and what they are prepared to put up with to acquire it. And while the 'nothing ventured, nothing gained' maxim holds truer than ever, some risks can also lead to losses. 

French luxury fashion house Kenzo experienced this firsthand when it recently launched a new checkout page for its online store. The brand, which is the brainchild of Japanese designer Kenzo Takada, came onto the scene in 1970. Over the past five decades, it has asserted itself as a visionary leader in the world of couture, and has earned its place in the canon of fashion history.

Unfortunately, the recent revamp of the site's checkout page did not translate into improved sales, and in fact, digital teams observed a decrease in the site's conversion rate. What was it about the new design that was putting customers off? And if the remodel had failed, then what exactly needed to be done to optimize the checkout page?
WITHIN SEVEN DAYS, KENZO SAW A 150% INCREASE TO ITS ONLINE CONVERSION RATE – A FULL 25% UP FROM THE PREVIOUS YEAR.


Understanding customer intent, and tailoring content accordingly is central to providing a satisfactory online user experience. But classic analytics often give only partial insights into user behavior, leaving an awful lot up to guesswork.
Following the drop in online sales, Kenzo was left facing two choices: either return to the original checkout page design, or identify what elements of the new interface were hindering navigation.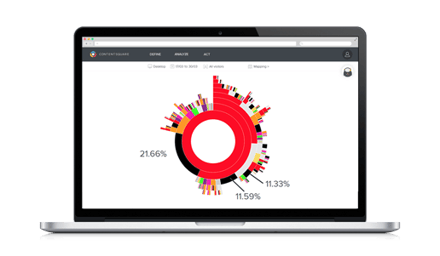 The brand decided to adopt the ContentSquare digital experience insights solution to review the purchase funnel, and effectively identify any friction points in the navigation path. The zoning analysis (that shows attribution for every asset on the page) flagged several areas of weakness, including misplaced delivery fields, a convoluted login process, and unclear calls to action — obstacles that were leaving users frustrated, and causing them to drop off.

Thanks to a data-driven assessment of the interface, ecommerce teams were able to focus on fixing proven design flaws with confidence. And this time, the effort paid off. Within seven days, Kenzo saw a 150% increase to its online conversion rate — a full 25% up from the previous year. 

To read the full Kenzo case study, click here.

There is Still Time to Catch the Back-to-School Shopper – Study Pinpoints Buying Habits of Late Shopper

The Back-to-school shopping season is one of the most diverse shopping seasons of the year with shopping beginning as early as June, and unofficially ending around Labor Day which has become symbolic as the unofficial "end of summer".

In our study, "Back-to-School Shoppers – A Digital Behavior Report", we analyzed these shoppers and determined that people shopping for back-to-school items in August represent the biggest opportunity for conversions. We took data from over 40 million visits and 460 million page views in order to understand this online behavior. Behind these numbers are insights that can have a huge impact on how you sell, insights that our CEO, Jonathan Cherki shared with Inc.

We divided shoppers into two categories:
Early shoppers – from June 1 to July 15
Late shoppers – from July 15 to August 31
Why are late shoppers the biggest opportunity?
Our study shows that late shoppers are much more engaged, and buy fewer items at a higher price.  And although our studies showed that late shoppers have lower conversion rates, their average cart value is 35% higher.  Now is the time to adjust your site to the late shopper buying habits and convert shoppers for the highest revenues of the season.
OUR BACK-TO-SCHOOL STUDY SHOWS THAT LATE SHOPPERS (LATE JULY = AUGUST) ARE MUCH MORE ENGAGED, AND BUY FEWER ITEMS AT A HIGHER PRICE. 
The back-to-school shopper uses both mobile and desktop. The consumption of content on mobile needs to be understood in the context of very short browsing sessions. Most users on mobile are multi-taskers with short attention spans.
For the late shopper, our study revealed that 22% of parents who wait until the last month to purchase their items will use their desktop. A multi-device strategy across all back-to-school campaigns is essential for creating a seamless experience from any device. According to the type of items in their cart, late shoppers also prefer quality over quantity. Take this opportunity to highlight exclusive products in August, as the late shopper will pay the higher price, and pick up on even more revenue from the conversions of late back-to-school shoppers.

The digital journey of the late back-to-school shopper is clearly laid out in our new research paper "Back-to-School Shoppers – A Digital Behavior Report".  With approximately 50 million kids going back to school, and spending to reach $75.8 billion dollars, there is still time to pave the way for back-to-school consumers to finish their shopping on your site.
Read the full report here, and then adjust your site before you swap out your school supplies with upcoming Halloween merchandise that is just around the corner.