UX Spotlight: Sizing up your customers – Be a virtual dressing room attendant for your shoppers

In the UX Spotlight series, I post weekly on UX features that impressed me online, and are great examples and inspiration for anyone looking to enhance their digital user experience.

Successful online retail depends on the confidence of your shoppers. Customers need to feel sure that they're making the right purchase, even though they can't physically feel or inspect the merchandise. When it comes to clothing, this can be a major obstacle for some shoppers, who hesitate to purchase without the opportunity to try on items.

This week, we spotlight online clothing retailer ASOS and the clever way they put customers at ease, both boosting sales and lowering returns.
The UX Element:
The product pages on ASOS have a rather typical layout overall, with a variety of photos, a video, and basic shipping information. However, what makes ASOS unique is that above the green "add to cart" button is a link inviting new shoppers to "find out what size people like you bought."
When clicked, a simple popup appears inviting customers to fill out their particular measurements, including height, weight, and preferences regarding if they like clothing to fit more tightly or more loosely.
Next, to get an even more accurate fit, shoppers can enter their dress sizes in other common brands, or they can skip that step.
ASOS then offers a reading based on the data entered: what the most commonly ordered size was for shoppers with similar measurements of this particular dress which resulted in the fewest returns.
If a shopper is satisfied with that information, they can continue shopping. However, if they want to be extra sure they are choosing the right size, there is yet further opportunity to specialize the sizing estimate by selecting the "make your results more accurate" option, which then prompts a series of other, more specialized popups:
After shoppers add as much detail as they wish, they can view a revised summary of their size estimation.
From then on, customers who are logged in or in the same shopping session will view a size recommendation on each product page based on their responses:
The Impact:
Because of ASOS's clever customer journey design, customers can have unparalleled confidence in their purchase. This sizing estimation has some benefits:
Social proof: It's not just that ASOS suggests a size based on measurements – they suggest a size based on previous customers' experience and satisfaction. This subtly builds customer trust in the brand by showing them how many other shoppers with their precise needs were happy with their item of interest.
Brand confidence: By asking shoppers their sizes in other common brands, ASOS projects confidence in the face of competition, and even uses that competition to their advantage by deducing from which competitors a shopper enjoys the best products to recommend them.
Customer loyalty: Once customers have their size saved in the ASOS system, it increases their likelihood of returning to the site to shop because every product page takes their personal needs into account, whereas competitors now lack this customized information and edge. Furthermore, it will motivate returning customers to log in so they can use their previously entered stats, and on average, logged in customers have a 25% conversion rate!
Reduce returns:  Customers receiving a correct sizing information means they will be more likely to be satisfied with their purchase, and less likely to return items.
Valuable data gathering: Of course, don't forget that every bit of data from your customers helps you further tailor your digital experience to better meet shoppers' needs and, in doing so, ramp up conversions and repeat business.
The Takeaway:
A SUPERIOR CUSTOMER JOURNEY CAN TAKE THE PLACE OF THE FRIENDLY FITTING ROOM ATTENDANT, AND INSPIRE THE SAME CONFIDENCE AND JOY IN THE SHOPPING EXPERIENCE.
Gone are the days of puzzling sizing charts and guesswork in mail-order catalogs. Through UX features like this one, online retailers have the opportunity to provide unprecedented assistance and guidance to customers. A superior customer journey can take the place of the friendly fitting room attendant, and inspire the same confidence and joy in the shopping experience.

It's that confidence that leads customers to conversion and keeps them coming back for more.

I am always on the lookout for UX innovation. If you come across a digital experience that stands out, please send it over to [email protected]

Europe's #1 Rail Travel Retailer Hops On the UX Train – es

Planning and booking a trip online has never been so easy. But in the fast-evolving landscape of digital retail, what was good enough yesterday might not meet the expectations of tomorrow's customer.

With over 80 million train ticket sales per year, Voyages-sncf.com is Europe's #1 train ticket retailer. The official distribution outlet of French rail operator SNCF, the site allows customers to map out their journeys through Europe, searching fares and schedules for hundreds of destinations.

But keeping the #1 spot means staying ahead of the curve — a hefty challenge in this new age of instant gratification and convenience where Generation Z dictates what's next in terms of digital experiences.

Digital teams at Voyages-sncf.com know that understanding the needs of an increasingly tech-savvy community of travelers is key to improving the site's conversion rate, and building up brand loyalty. And since one-third of all transactions processed by the site are made on mobile devices (two-thirds of their traffic distribution), it would seem that today's travelers want to book their journeys while they are already on the go — an imperative that comes with its own set of challenges.

Here, the challenge is also an opportunity for growth. For Pascal Lannoo, head of digital customer experience at Voyages-sncf.com, harnessing the shift to mobile is central to the brand's success. "How to leverage an awesome customer experience into a real business opportunity is really our daily focus at voyages-sncf.com," says Lannoo.
WITH OVER 80 MILLION TRAIN TICKET SALES PER YEAR, VOYAGES-SNCF.COM IS EUROPE'S #1 TRAIN TICKET RETAILER.

Optimizing a platform to increase sales is easier said than done. And successfully adapting a site so it reflects the active lifestyle of today's rail travel customers implies a pretty sophisticated understanding of said customers. What they want, how fast they want it, which hoops they will jump through, and which ones they won't.
"Customer behavior is not something that you guess," says Lannoo. "You really have to measure it and to observe it."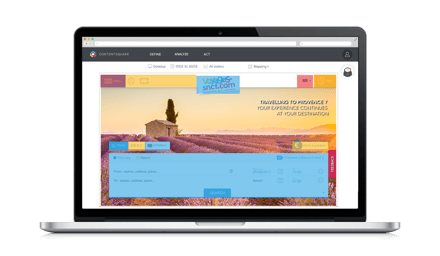 In order to build up a precise picture of how their customers were using the portal, Voyages-sncf.com used the ContentSquare digital experience insights platform — a tool that allows companies to visualize user navigation patterns and optimize to offer a seamless digital experience.

This level of in-depth, data-driven analysis helped teams identify friction points and flag areas that needed to be improved. Today, ContentSquare is a go-to tool for business and customer experience teams at Voyages-sncf.com, and more than 70 people across the company rely on the solution.

To watch the full interview of Pascal Lannoo, head of digital customer experience at Voyages-sncf.com, click here.

Brewing Success: T.O by Lipton Boosts Tea Sales by Optimizing its Website

Launching an innovative new product that relies on a direct-to-consumer sales strategy is an exciting business proposition in the age of digital retail. But depending on a single sales channel also presents tremendous challenges for brands — if there's only one place for your customer to restock, then you better make sure it's inviting.

In 2015, T.O by Lipton — a startup within the Unilever group — revolutionized tea-making with the launch of its single-serve tea machine. Designed by consumer appliance giant Krups and available in five different colors, the Lipton tea-maker uses premium tea and herbal tea capsules that are sold exclusively through the company's online shop.

Appealing to tea lovers with high expectations when it comes to the perfect cup, the brand offers classic and innovative tea blends, which the machine brews using filtered water and at the ideal temperature. In fact, it's a "smart" tea-maker — it can read the capsule, and program the brewing settings according to the type of tea you want to make.

Since the online store is the only distribution point for the tea capsules, developing customer loyalty and increasing conversion rates on the platform is vital to the brand's commercial success. The first challenge by T. O by Lipton was understanding what was causing consumer drop-offs — why some customers clicked the purchase button, while others exited the site before even reaching the checkout.
DIGITAL TEAMS WERE ABLE TO REDUCE THE BOUNCE RATE BY 10%, INCREASE THE NUMBER OF REPEAT VISITORS BY 75%, AND DOUBLE THE SITE'S ADD-TO-CART RATE.

But differing interpretations of consumer behaviors within the brand's digital teams were confusing efforts to improve the platform, and providing conflicting insights into how best to maximize user experience.
By using ContentSquare's digital experience insights platform, e-commerce teams at T.O by Lipton were able to visualize and interpret their customers' journeys through the site — and more importantly, to identify problem areas. 
Data-backed identification of the platform's weak points allowed digital teams to focus their efforts, and prioritize certain elements of the redesign. Realizing that a lengthy, convoluted purchase funnel was putting some customers off, T.O by Lipton set out to streamline the buyer's journey by removing unnecessary steps — an effort that has more than doubled the company's conversion rate.
In fact, in only 7 days of using the solution, digital teams were able to reduce the bounce rate by 10%, increase the number of repeat visitors by 75%, and double the site's add-to-cart rate.

To read the full T.O by Lipton case study, click here.
To watch a video interview of Mathieu Bernard, head of e-commerce for T.O by Lipton, click here.