JanSport and Eagle Creek Crushing This Holiday Season with Consumer Behavior Marketing

For adventure luggage brand Eagle Creek and leading backpack retailer JanSport, this year has had quite a few surprising turns. Eagle Creek's business is closely linked to the travel industry, so the business saw demand for suitcases plummet as air travel came to a standstill. JanSport wondered if it might face a similar struggle in the face of school closures. 

However, in the last few months, both brands pivoted to take advantage of new emerging consumer behaviors marketing and trends. Customers passed on rolling luggage and instead opted for duffel bags for their local travel adventures, while a surge in large backpacks characterized an altogether unusual Back to School shopping season. 

We asked VF Corporation, the parent company of JanSport and Eagle Creek, to elaborate on these new trends and evolving customer needs during our ongoing Fall Semester webinar series. We sat down with Ashley Peterson, an eCommerce Analyst at VF Corporation, to hear her perspective on what brands should expect this holiday season. Plus, Ashley shares how both VF Corporation brands have adapted to meet changing customer needs in innovative ways – from capitalizing on the resurgence of fanny pack popularity to creative packing cube usage, and more. 

Here's what she had to share about the changing Holiday Shopper Psyche in 2020:
How have your consumers' behaviors changed over the past six months?
It's been very different for both our brands. At Eagle Creek, since we're directly correlated with the travel industry, we were hit almost instantly with an interesting shift in buyer behaviors. When March 11th hit and the pandemic was declared, we saw the same nosedive as the travel industry. 
What's been interesting is how people's perception has changed. We've had to start understanding how their needs have shifted, and meet our customers where they're at. We had to learn to provide them with what they want — not what we think they want.
On top of COVID-19, there are so many other social issues that are going on in the world that we can't ignore. JanSport attracts a much younger customer and we have to appeal to an audience who is supposedly more "woke" than the hippies were back in the day. We need to prove that we care or we'll lose these shoppers. 
We need to prove that we care or we'll lose these shoppers. 
These customers are socially aware and will shift their buying behaviors to find products that meet their personal passions, like buying a bag made from recycled materials to reduce their impact on the planet. People are more aware of what's going on in the world in general. At JanSport, we ask ourselves, "How can we appeal to the emotional side, as well — not just a customer's need for a product or a good?"
Have you noticed a surge in certain product sales since the pandemic? 
Our product mix has completely changed. During this year's Back to School season, people were buying bigger backpacks. Our fanny pack sales have really taken off because people are going on adventure hikes or want quick access to their PPE. I think with that product mix shift we're also gaining exposure to new audiences who now know Jansport does more than just make school backpacks. 
Because people are staying home, many have taken to the Marie Kondo craze and started organizing and purging their homes. At Eagle Creek, we've seen different buyer behavior towards purchasing our packing cubes and luggage organizers and using them in more diverse ways than we've ever seen before. People aren't just using them to organize their closets or luggage, they're organizing their pantry or kid's craft room to keep themselves sane while we're all stuck in the same household.  
What are you doing to bring the in-store shopping experience online? 
We've actually started to push out more 3D product photography. One of the best things about offline shopping is that you can touch a product, see it, try it on, hold it next to you — decide for yourself if you're going to look hip wheeling this suitcase through the airport or wearing this backpack around campus. Customers value being able to spin a product, see the entire thing, open it up, and see what's in it.
Customers value being able to spin a product, see the entire thing, open it up, and see what's in it.
We also have a separate experience that lets you view a product's size in comparison to everyday items like a Nalgene, an iPad, and other things in your life that are super tangible. There's nothing worse than getting a backpack and realizing it's way smaller than you need it to be and having to go through the hassle of returning it and waiting for a new one. 
The other thing we're using more of is user-generated content. That's especially valuable for Jansport. People like to see what a bag looks like in the real world and on other people, especially if they can't see it in a store. We're putting a lot more emphasis on lifestyle product shoots and ways to show products in more tangible experience even through the computer screen.
People like to see what a bag looks like in the real world and on other people, especially if they can't see it in a store.
Eagle Creek is really where we're pushing hard for that 3D product imagery. There's a lot of really cool features of our luggage pieces that you can't really portray with just flat product images. Customers are visual and we could put the words on the page, but people don't always read them. A 3D product image lets them actually spin it around on their screen and click on and discover features.
How are you helping shoppers find your products online? 
Say you're shopping in-store at a Target that you shop at every day. You know exactly what aisles and departments you need to visit to find what you need. Now say you're shopping on a website. You land on the homepage and there are so many options that it's easy to get overwhelmed. You have to ask yourself "What do I want?" and "What do I need?" We all know people don't have long attention spans and they want things fast, so we wanted to reduce the number of clicks it takes to get to our products. 
Using consumer behavior data to better understand shopper intent, we completely overhauled the JanSport.com navigation bar to give users quicker access to our products and get them what they want faster. If I know I want a water bottle pocket on my backpack, I don't have to go to "All Backpacks" and then apply a filter. There's already a page for me and I know I'm going to find something in there that I like. Since introducing it, we've seen our CTR and conversions skyrocket. 
What consumer pain points are you trying to solve this holiday season? 
Because of COVID-19, life has changed and people's worlds have been turned upside down financially. As a result, we've introduced flexible financing by adding Klarna to both of our websites and some of the other VF brands have picked it up as well. It's taken off. I think it's a really great option to provide users and adoption continues to increase. Say I'm a college student and I really want a new backpack, paying it off in smaller installments better fits into my budget and I can buy the product. 
How are you approaching gift guides this year?
Gift guides are huge for our brands, especially Eagle Creek. It's important to be conscientious of pricing and what people are buying. Don't try to give them something just because it has a higher price or you're sitting on more inventory. Give them suggestions based on what customers are actually purchasing.
Don't try to give them something just because it has a higher price or you're sitting on more inventory. Give them suggestions based on what customers are actually purchasing.
For Eagle Creek, we saw a super interesting shift in buyer behavior. Our duffel bags are selling like hotcakes. People are going on more local adventures and there's a newfound explosion of camping, glamping, and overlanding. Duffle bags are easier to pack and throw in small spaces than hard-sided luggage, so we've seen a huge uptick in sales there. Our gift guides this year will feature them more prominently because you need to shape your gift guides what your users want. 
It's so easy to regurgitate marketing messages or gift guides and just say, "This is the newest version of that product this year." My suggestion is to use your gift guide as a way to remind your customers of your great products but to cater it to what they want to see. Things have changed so much this year that we have had to adapt to show up for our customers. Your gift guides should reflect those changes, as well. 
Have you noticed any other general customer trends this year? 

I've found that there is far less brand loyalty out there. The JanSport brand is pretty well-known, but it was fascinating to see the competition and diluted marketplace during this year's Back to School season. It's been interesting to see how this shift in brand loyalty has been exacerbated by COVID-19 too. People had to seek out brands that could satisfy their new needs. Customers are no longer loyal to one brand and willing to make just any product work for them. They want a specific product that suits them and they don't care as much about who makes it.

This interview is an excerpt from Contentsquare's ongoing Fall Semester webinar series. In addition to VF Corporation, we'll be sitting down with digital experts from other leading brands like Orvis, e.l.f. Cosmetics, Nespresso, and more.

Click here to register for the next Fall Semester session or watch previous sessions, like "The Holiday Shopper Psyche in 2020" with VF Corporation.

Retailers with Effective Back-to-School Campaigns: A College Student's Review
Class is in Session
As the school year approaches you'll notice a new back-to-school campaign with each day — emails, ads, pop-ups, there has never been more encouragement to stock up for September. If back-to-school shopping is on your to-do list, you probably have a favorite spot you go to for all those needs, but have you ever considered what other options you have? 
I was actually asked to write this article because I am the most recent employee in the New York office to go back to school shopping, and it's crazy to see all the new changes and additions that have been made lately. When I was going back to school shopping for high school, my school would send a general list to everyone and something would always be missing from that list. Growing up in New York City, my go-to spot was always Staples because it was closest to my school, and it was really my only option in the area I was living in. 
Something I noticed this year is that Staples has teacher lists so that you can find your specific school supply list without wondering if you're missing something; this is a great offer considering that me and my classmates would always find ourselves back at Staples a few days after school began in order to pick up that extra binder that we didn't know we needed.
Back-to-School Sales
Staples also offers 20% off school supplies when you purchase a backpack, which I wish they offered when I was a student, especially considering the combined cost of backpacks and supplies. One thing I really like about Dollar General is that it provides discounts to teachers on stationery items because educators never stop school shopping. In fact, I remember teachers offering extra credit to students who would bring in reams of paper. The costs of all these supplies add up just that one time a year when families go back-to-school shopping… now imagine facing those costs year-round. 
As a current college student, I will take any opportunity to shop, especially if a sale is involved. As the fashion and, mainly, sneaker-obsessed member of my family, I am always looking for cheaper options so that I can continue to fund my shoe habit without breaking the bank. On that note, Rack Room Shoes offers $10 off purchases of $75 and above, and to top it off they are offering a BOGO 50% off the second pair of shoes you buy. 
Another great shoe store that I frequent is DSW, and I love that DSW has afterpay so that you can make smaller payments over time and still get your product right away. It's this kind of feature that is pre-set with the number of payments you make; for example, you'll see the retail price online and directly below it'll suggest four smaller payments over time while giving you the product after the first payment. As a college student with a limited budget for shopping, it is a tool that myself and my friends at school all use. The feature really makes a difference for me because it means I can make my payments in smaller amounts rather than going in completely and breaking the bank. This also helps me because while I enjoy products for the value I think they have, I love when a sale or promotion comes around because it'll make me more inclined to shop for the things that I need and at a lower price. 
Cool Features from Retailers
I've already mentioned that a great place for back-to-school shopping is Dollar General — they also have a similar system to Staples' teacher lists, and you can search for your supplies list by entering your school's zip code. But everyone knows back-to-school shopping is not just about notebooks and pens, and many students (myself included) will spend a good part of their budget on clothing. 
One problem for me as a student was that although my school had a dress code, it was not clear-cut. This was great for me and other students, as it allowed us an outlet to be expressive… however, it was not so great when the principal roamed the halls shaming people for not following the unwritten guidelines for attire. DSW offers a good solution with its Uniform Shop, which allows you to browse for the coolest shoes in school without breaking the dress code. 
Back-to-School Campaigns Set on Giving Back
Aside from offering great deals on back to school shopping, another thing that attracts me to one store over another is when the brand partners with nonprofit organizations. Something that I've noticed in myself and my peers as shoppers is that they're more likely to shop more within a brand if there is a way to give back involved. For example, Burlington has partnered with AdoptAClassroom.org so that customers can nominate schools for a chance to win 1 of 10 $10,000 grants for school supplies. 
I think this is a great way to bring attention to the fact that not all schools are created equally, and when schools are underfunded, it's ultimately the students that pay the cost. DSW has partnered with Be Strong with the goal of raising $150,000. Be Strong is a student-led movement that empowers students to rise up against bullying. This is a great cause for DSW to be paired up with because bullying is an ever-present problem within schools, so much so that it has come to be considered normal. 
Lastly, Rack Room Shoes has partnered with Shoes That Fit, and is matching each donation up to $300,000. Shoes that Fit is an organization that provides new shoes for children in need. In my opinion, if you can afford to go buy new shoes, why not go to a store that is raising funds to provide shoes to others? 
CLASS DISMISSED

As I finish writing this post, I ask myself if this was written with enough lead time to the start of the back-to-school shopping season. If you've already started shopping, I'm impressed by how far ahead you plan… now let's see if you can plan further — you can! 

We spent some time understanding the mindset of the early-bird back-to-school shopper by analyzing the digital journeys of shoppers stocking up on stationery supplies and backpacks. Take a look at our Back-to-School Report for a holistic view on how shoppers maneuver through websites for common back-to-school purchases. 

If you haven't started back to school shopping, don't fret, you're not the only one! I haven't looked at what textbooks I need to buy or even thought about how many notebooks and folders I'm going to need.

What 69 Million Visitor Sessions Tell Us About Back-to-School Shopping Behavior

With the back-to-school shopping season in full swing and our data-driven approach to just about everything, we surveyed the shopping habits of early-bird shoppers getting a head-start on filling their supplies lists.

The back-to-school shopping season represents the second-largest retail event in the year, with 54 million students enrolled in grades K-12. A Deloitte study predicts that there will be a $27.8 billion expenditure during the 2019 back-to-school season, with 29% of this revenue stemming from online sales. 

Our 2019 Back-to-School Report offers a holistic view on how shoppers maneuver through websites for common back-to-school items. This blog post is a condensed version of our mini-report, pointing out keys facts and figures that brands ought to know. With the knowledge of browsing, shopping and other online behaviors of back-to-school shoppers, you'll be able to optimize your site for a successful back-to-school campaign.
Back-to-School Shopping Campaigns Methodology
The findings in this report stem from an analysis of 69 million user sessions between June 1st and July 1st.
These sessions translated to observing 439 million pages and 567 million clicks. Now that's a lot of back-to-school shopping. In an effort to extract the most valuable data for brands, we filtered out non-customers, only studying the customer journeys that resulted in a purchase. 
We zoomed in on two types of purchase decisions: low-involvement and high-involvement. 
Low Vs High Involvement Purchases: Elemental Differences & What Sets Them Apart at a High Level 
The back-to-school shopping season is defined by shoppers that fall into two major categories, although they're not mutually exclusive; high involvement purchasers often make low involvement purchases. 
What sets them apart? For the purpose of this mini-report, we defined a low involvement purchase as one that requires little consideration and low levels of user attachment — think pens, pencils, notepads and other stationery items that make up the bulk of a back-to-school shopping list. Parents are usually at the helm of these purchases, searching for a way to fill up their kids' shopping list in a budget-friendly way.
A high involvement purchase, on the other hand, is a much more deliberate purchase, one that is personal for school children — in this case, we looked at backpacks. More durable and long-lasting than say, a crayon, a backpack can also be a medium for self-expression, and as such, this type of purchase isn't made quickly, on a whim, or to satisfy a teacher's list.
Aside from this core difference, let's glimpse into the other elemental ways in which book bags (high involvement) differ from stationery (low involvement). Before we delve into the more granular behaviors of these two types of purchases online, you ought to know the more basic ones as you attempt to set up a good user experience (UX) for both.
The Menu VS the Search Bar 
As two of the main page elements visitors use to find the products they're looking for, the menu and search bar carry a lot of weight for UX and conversions. Backpack and stationery shoppers have their own preferences when it comes to using these site elements.
The product-finding element of choice for book bag shoppers is the homepage menu, as it garners almost 4 times as many interactions from them as it does from stationery shoppers. Stationery shoppers opt for the homepage search bar, which receives a 7% higher click rate from this type of shopper.
This type of binary in-site searching behavior reveals that visitors seeking backpacks are more open to a wider scope of product suggestions. This is exactly what a menu offers, especially if it's comprehensive, or a menu mega. This preference is telling of the nature of backpack purchases, which are much more personal for students and are set to last them at least one school year. 
On the contrary, stationery buyers seek the shortest path to their sought-after products. This is because the item lists for stationery are long and varied, not to mention; they tend to be specific. For example, 8 x 10 ½ loose-leaf paper, washable glue sticks, ringed binders, etc., are precise supply requests. Finding them quickly to make a fast purchase will require a strong search function on a search bar. 
Searching for an item with a close exactness to its name will ensure stationery shoppers that they find the right product at speed.
Site Visits for Backpack and Stationery Shoppers
While you can safely bet that book bag and stationery shoppers will visit your website (especially if you are well-established or have a decent UX) quantitatively, their visits diverge. Backpack shoppers will need more site visits before converting.
This is because backpack shoppers are the online equivalent of window shoppers — they require more time for finding the best product for them. Our data shows that these high involvement purchasers will visit a site three times before converting. After thorough sessions of browsing potential backpacks, these buyers leave as something of a brand expert.
Stationery shoppers usually convert after having visited a site twice. As low involvement purchasers, they do less perusing and require less convincing. To cater to these visitors, pay attention to price points, as these are often the main, if not only, deciding factors for these shoppers.
As the first graph shows, and the one below, the longest user sessions for both stationery and book bag shoppers exist on mobile, followed by desktop and then other devices.
Landing Page Attractiveness for back-to-school shoppers
The landing page might be reached via different entry points (direct, social media campaign, Google Ads, remarketing, retargeting, etc) but it serves the same goal for back-to-school shopping campaigns: getting prospects to convert.
Let's see how the different types of landing pages fare for stationery and backpack shoppers. Stationery shoppers land 23% more on category pages than their backpack-minded counterparts. They're looking for quick comparisons for a quick time spent on the site. Thus, they favor a bird's eye view of all the relevant merchandise.
Book bag shoppers land on product pages 125% more than stationery shoppers. This is because high involvement purchasers seek a comprehensive understanding of what they're willing to buy. Since product pages go into the full depths of a product, they oblige to this need. Brands should work on calibrating their product ads to perfection, because this is typically the starting point of a product page landing.
Consumption of Pages and Time Spent on Site
Backpack and stationery shoppers have different proclivities for consuming webpages. That means that the amount of pages each category consumes and the time they allot themselves per session differs.
Low involvement (stationery shoppers) view 35% more pages than do book bag shoppers — 46 pages per visit versus 34 per visit. This can easily be attributed to the list of supplies stationery buyers need, while backpack shoppers are just on the hunt for a single item.
The visits of stationery shoppers are also longer on average than those of backpack shoppers, specifically, they are 33% longer. The cause underpinning this is also easy to understand, as viewing more pages will take more time than viewing a few.
However: when it comes to time spent on-page, back shoppers take the lead, consuming a single page — particularly a product page. Book bag shoppers spend 60% more time on a product page than stationery buyers. Brands should therefore pay more attention to optimizing product images and descriptions. Remember, these high involvement purchases are more expensive and carry more sentimental value.
Similarities of High and Low Involvement Online Purchases
Despite the many differences that high and low involvement, i.e., backpack and stationery purchases entail — and even more finely combed ones you'll learn about from our report, these two back-to-school purchases do cross paths digitally.
This occurs in the homepage slideshow and on the recommended products, as both of these site elements exhibit a high click rate among our two audiences. For backpack shoppers, this underscores a keen interest in the product itself, tying back to its longer use and function as an item of self-expression.
For stationery shoppers, who are especially inclined towards clicking on these in-page elements, this shows that they are on the prowl for the best deals — as noted earlier, this audience will surely compare price points across the all the websites they visit, so make sure your prices are competitive. As for the UX side of price, if you're offering a sale or discounted prices, spell this out for customers early on in their journey, as not all user paths are equally long.
We hope this post granted you acute insight into the digital habits of backpack and stationery shoppers during the early 2019 back-to-school shopping details. Hungry for more data? Our Back-to-School Shoppers Report won't disappoint.
The 4 Best Online Back-To-School Campaigns

Countless eCommerce merchants spent the entire year preparing and testing iterations of back-to-school campaigns, with the most innovative and attention-grabbing campaigns raking in lucrative returns.

Now that everyone is back in school and the campaign craze is finally over, we would like to share our favorite 2017 campaigns. These are the ones we found most creative, inspiring, and that really maximized the power of digital experiences. Kudos to these companies who, in a nutshell, completely nailed it.  And here they are!

#1) King of Convenience: Staples

Staples has been in the back-to-school game for decades, and has adapted to the digital world thoughtfully. One reason Staples has managed to remain competitive as commerce shifts away from brick and mortar stores is its foundational ability to recognize not only its consumers' pain points, but also the pain points of the industry at large.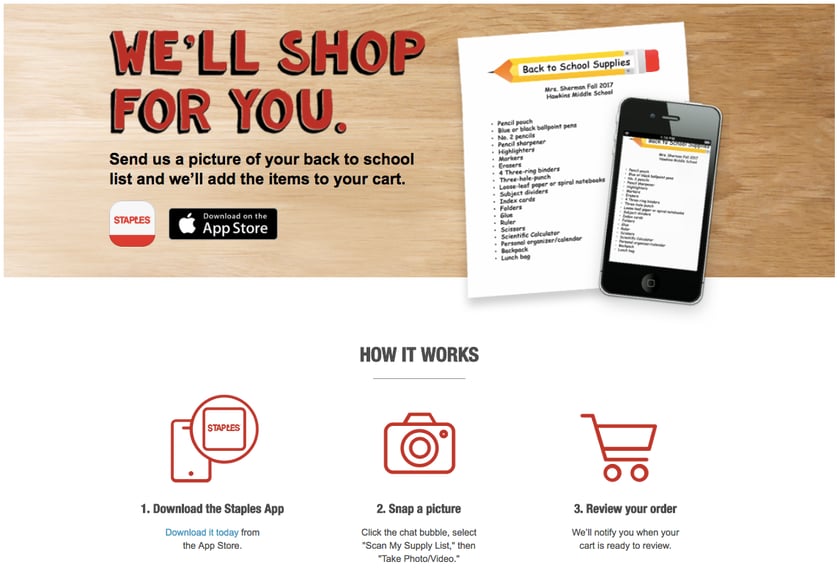 Customers can snap a picture of their back-to-school list, upload it to the Staples app, and Staples automatically adds each item to a shopping cart for customers to review and check out.
Why it works: The biggest pain of back-to-school season? Having to navigate Labor Day Weekend parking lots, track down every picky item on your child's school supplies list, and wait in line to check out. With their new "We'll shop for you" campaign, Staples eliminates each and every one of those pain points. Staples sets itself apart with this complete solution to back-to-school anxiety, and at the same time, gets its app installed on phones galore, giving them a leg up in the competition for that customer's future purchases, as well.
#2) Class Clown: Best Buy
Electronics giant Best Buy made a notable contribution to the back-to-school rush in recent years with their coordinated commercial and mobile campaign featuring comedic actor Adam Devine.
Best Buy has always made an effort to humanize and insert humor into the electronics industry, and its back-to-school campaigns were no different. By creating a short series of videos titled "How to College with Adam Devine," Best Buy was able to make a lasting impression on high school seniors, college students, and general fans of funny short videos.
https://youtu.be/EiFg7Vc08vk
These videos aimed at helping new college students navigate a new world of first-time experiences and awkward situations with comic levity, while simultaneously introducing relevant Best Buy products.
Some credit is due to Best Buy's selection of Adam Devine for this particular role. As one of the stars of Workaholics, a Comedy Central show about three college friends entering the workforce, Devine was able to bridge the gap between Best Buy and a new generation of college students.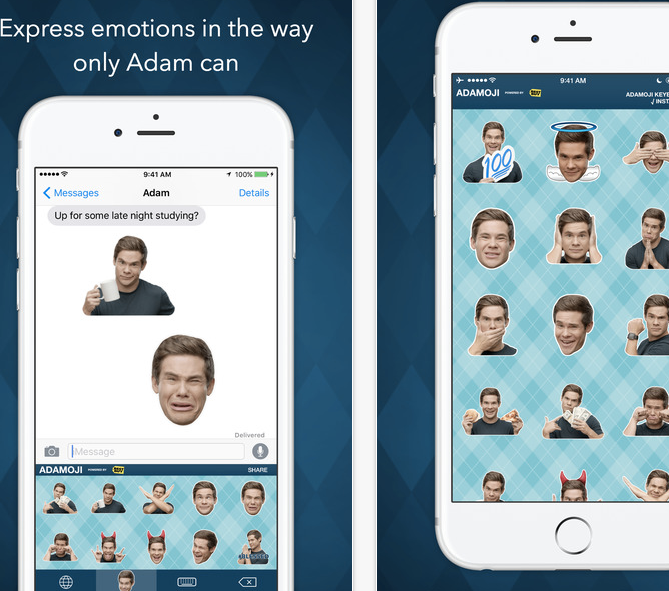 Best Buy carried the campaign into their mobile experience. The introduction of "Adamojis," exclusive emojis containing Adam Devine's expressions and funny faces, made it easier for a young audience to associate Best Buy with a hip celebrity. Best Buy's release of an emoji app also showed an intimate understanding of their target audience.
Why it works: Best Buy's campaigns were an effective way to build their brand with a new generation of college students. With an omnichannel approach utilizing YouTube, mobile apps, and in-store locations, Best Buy was able to cover a lot more ground with a single initiative.
#3) Advertising through Advice: Walmart
Any good marketer knows that quality content is a great vehicle to introduce products to customers who are otherwise allergic to advertising. Shoppers these days are so inundated by ads that they are likely to ignore obvious marketing. It's up to innovative advertising teams to use more subtle methods to induce product discovery.
"Subtle" and "Walmart" don't usually appear in the same sentence, which is why Walmart's series of back-to-school advice columns are so clever. Pieces like "Girls' back-to-school outfits for a whole week," bento box lunch ideas, and a backpack buying guide provide nuggets of useful info for parents while recommending specific Walmart products.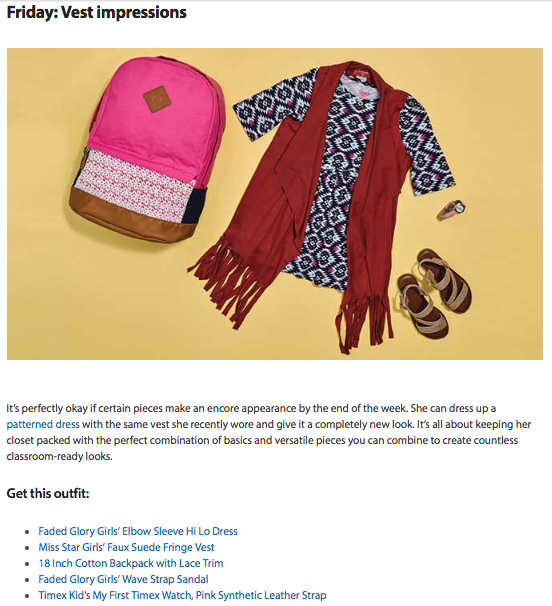 Why it works: Brands like Walmart, which focus on high volume and low prices, can face the problem of customers feeling overwhelmed by choice and fatigued by shopping. Especially online, when the options are seemingly endless, Walmart needs to help customers visualize how items will fit into their daily lives and meet their needs. Giving customers tips for the busy back-to-school season, and explaining how specific items can make the transition easier and fun, is a great way to cut through the consumer fog and connect shoppers with products.
#4) Bundling Boss: Bed Bath & Beyond
When it comes to stocking a dorm room, there's never been a better time for bundling. First time college students and their parents can only guess at what a modern college freshman needs at their new home away from home, and retailers have the opportunity to help them think of all of the essentials and each of the extras that will make sure they're at their best and comfortable in their new space.
Bed Bath & Beyond featured a selection of well thought out and creative bundles they call "starter packs," with the funny and relatable slogan: "When you just can't even, we can help."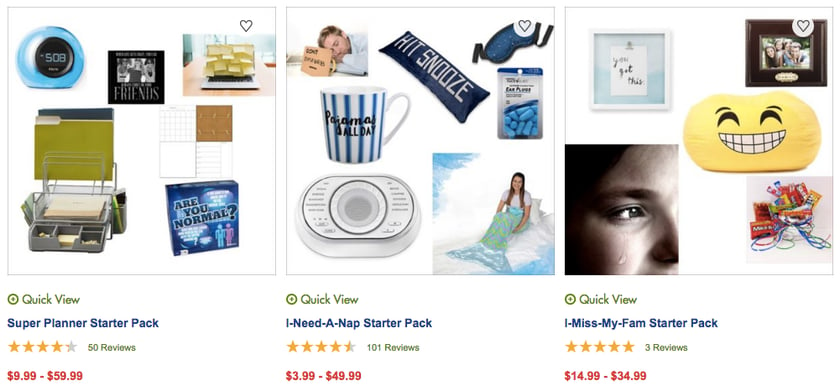 Some favorites include the "anti-freshman 15" which features dumbbells, a mini juicer, and other wellness items, and the "I-miss-my-fam" which includes picture frames, sweets, and other comfort items.
Why it works: The campaign is eye catching and tugs at the heartstrings with its clever nod to how overwhelming and emotional it can be to move away from home (and to move your children away from home), and funny and comforting with its product titling and selection. It cleverly communicates, "When you feel homesick, you'll need these items," and "When you have a hard time focusing, you'll need these items," which illustrates how their products can help specific states of mind – which at the end of the day is what every shopper truly wants, to feel better and to feel happy. Bundles are the perfect way to deliver products to consumers who don't know yet what they'll need in order to feel good in a new situation, like a new school setting.
In Conclusion
The best back-to-school digital campaigns shoot for extremely effective targeting that brings visitors to a clear communication of the specific value of their products, while seamlessly introducing them to their shopping experience.
Savvy merchants understand their audiences and are willing to go outside the boundaries of traditional marketing and get a little creative. A successful back-to-school campaign directly addresses customer's needs while tapping into the excitement and high emotions of the season of transitions.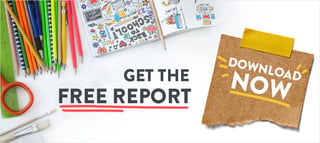 [Infographic] Back-to-School: The Late Buyers are the Big Spenders

With Back-to-School is just around the corner, retailers and shoppers are running around getting the last items on the list in time to kick-off a new school year. The magic words of this season have been experience, mobile and seamless journey.

Check out our infographic below that highlights the digital behavior of back-to-school shoppers, based on our recently published study.

For insights, tips and tricks, read our free study "Back-to-School Shoppers: A Digital Behavior Report"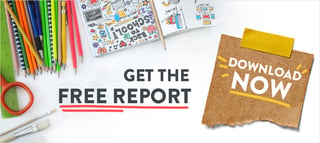 There is Still Time to Catch the Back-to-School Shopper – Study Pinpoints Buying Habits of Late Shopper

The Back-to-school shopping season is one of the most diverse shopping seasons of the year with shopping beginning as early as June, and unofficially ending around Labor Day which has become symbolic as the unofficial "end of summer".

In our study, "Back-to-School Shoppers – A Digital Behavior Report", we analyzed these shoppers and determined that people shopping for back-to-school items in August represent the biggest opportunity for conversions. We took data from over 40 million visits and 460 million page views in order to understand this online behavior. Behind these numbers are insights that can have a huge impact on how you sell, insights that our CEO, Jonathan Cherki shared with Inc.

We divided shoppers into two categories:
Early shoppers – from June 1 to July 15
Late shoppers – from July 15 to August 31
Why are late shoppers the biggest opportunity?
Our study shows that late shoppers are much more engaged, and buy fewer items at a higher price.  And although our studies showed that late shoppers have lower conversion rates, their average cart value is 35% higher.  Now is the time to adjust your site to the late shopper buying habits and convert shoppers for the highest revenues of the season.
OUR BACK-TO-SCHOOL STUDY SHOWS THAT LATE SHOPPERS (LATE JULY = AUGUST) ARE MUCH MORE ENGAGED, AND BUY FEWER ITEMS AT A HIGHER PRICE. 
The back-to-school shopper uses both mobile and desktop. The consumption of content on mobile needs to be understood in the context of very short browsing sessions. Most users on mobile are multi-taskers with short attention spans.
For the late shopper, our study revealed that 22% of parents who wait until the last month to purchase their items will use their desktop. A multi-device strategy across all back-to-school campaigns is essential for creating a seamless experience from any device. According to the type of items in their cart, late shoppers also prefer quality over quantity. Take this opportunity to highlight exclusive products in August, as the late shopper will pay the higher price, and pick up on even more revenue from the conversions of late back-to-school shoppers.

The digital journey of the late back-to-school shopper is clearly laid out in our new research paper "Back-to-School Shoppers – A Digital Behavior Report".  With approximately 50 million kids going back to school, and spending to reach $75.8 billion dollars, there is still time to pave the way for back-to-school consumers to finish their shopping on your site.
Read the full report here, and then adjust your site before you swap out your school supplies with upcoming Halloween merchandise that is just around the corner.