With fashion week upon us once again, brands are focused on pushing the latest trends, and keeping their digital audience engaged around the season's must-have looks and accessories.
And it's not only styles that are changing fast and furiously — throughout the past decade, the fashion sector has experienced a great deal of transformation. Digital innovation, the rise of social media, and the emergence of new standards for customer experience have all impacted digital buying behavior.
We reached out to two experts in all things fashion to hear their thoughts on how brands can make their mark and stay ahead in this rapidly-changing industry.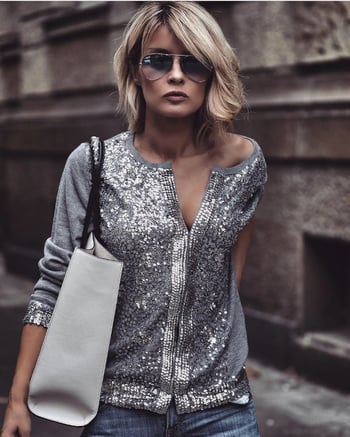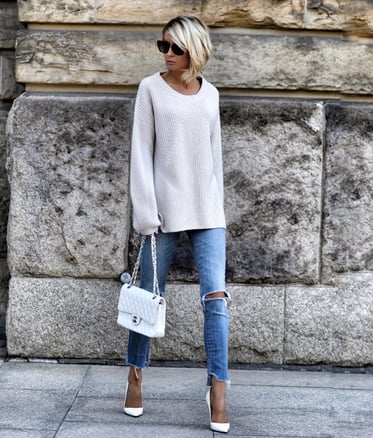 Photo: Gitta Banko, Blondwalk
GOOD UX VERSUS BAD UX
In this age of instant choice, where consumers have access to hundreds of competing stores right at their fingertips, digital convenience and hassle-free shopping have become a key factor of brand loyalty. If you have a winning product but a terrible digital experience, you'll still lose customers.
Gitta Banko, a stylist, fashion blogger and digital influencer who showcases the latest styles on her sartorial diary Blondwalk, agrees that the customer experience is make or break. "The worst online shopping experience, even if I love the clothing, is when the site is not working properly," says Gitta.
Long load times, broken links, lack of information — today's consumers have a very low tolerance for any friction along the digital journey. If even one part of the digital journey seems confusing or difficult, it only takes a few seconds to switch to a competing brand.
Today's consumers have a very low tolerance for any friction along the digital journey.
For Gitta, navigation turns problematic when "the images load too slowly, or it (the site) keeps showing errors." Frustrating delays in-site will not endear you to customers – particularly when shoppers are flicking through multiple product images or viewing inspirational content. In fact, ContentSquare data shows that digital shoppers make their minds up very quickly, with 40% of e-Commerce buyers converting on the first visit.
An intuitive path through the site is also a must-have. "What I feel is also annoying is when the page navigation is not well done, meaning it redirects me to the landing page when I have already clicked my way through product page 16," explains Gitta. Imagine walking through a museum — you want to walk from one section to another seamlessly without having to go back to the main lobby to ask for directions. The same goes for shopping online.
Shipping is also a key component of the customer experience. Like many fashion fanatics, blogger Jessica Windle, who shares style pics and stories on Jeans & a Teacup, is always on the market for a good deal on delivery and some sort of promotion.
"If shipping is too expensive or the return process is difficult, I won't go through with a purchase," says Jessica. "I like a deal, too, so sometimes I won't go through with a purchase if an item isn't on sale or I can't find a discount code." Indeed, ContentSquare found that 28% of shoppers abandon their carts due to unexpected shipping costs. Making shipping costs and discount codes known at the start of the customer journey can make all the difference between a conversion and a bounce.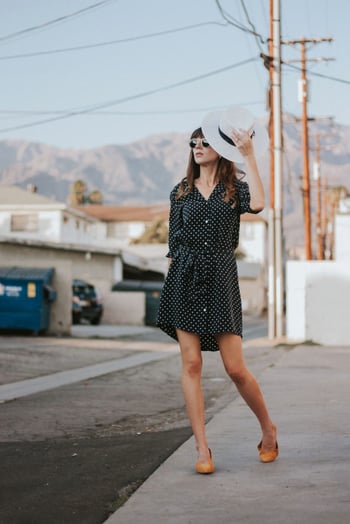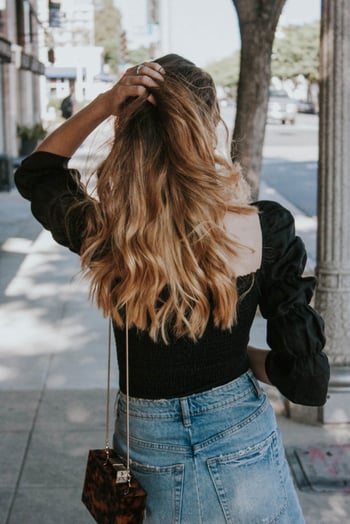 Photo: Jessica Windle, Jeans & a Teacup
MOBILE FIRST — A TREND THAT'S HERE TO STAY
As more and more retail traffic shifts to smartphone (49.1% versus 38.2% desktop), fashion brands are allocating a bigger chunk of their marketing budget to connecting with their mobile customers. "A smartphone is great if you need to make an emergency purchase while you're out," says Jessica.
But while today's fashionistas may be glued to their phones, ContentSquare data shows that a majority still switch to desktop to go through with purchases — 2.33% CVR on desktop versus 1.16% on mobile. "I like to browse on my smartphone but I usually end up purchasing from my laptop at home", confirms Jessica, citing poor internet connection as one of the hurdles to mobile conversion. She also flags sites that "mobile-friendly" as a major frustration.
Gitta confirms the need for a mobile-first design when shopping on her smartphone. "If I use my mobile device I prefer using apps if the shops offer them, as they are better to handle than desktop versions on mobile devices." She describes her pet mobile UX peeve as "pop-ups that are hard to close."
Confirming that mobile users have little patience for anything less than a seamless journey are the higher bounce rate and cart abandonment rate on handheld devices. ContentSquare data shows that for fashion e-Commerce sites, the mobile bounce rate is 41.4%, compared to 33% on desktop. "I usually use my laptop for online shopping as I can see everything better on there," notes Gitta.
ContentSquare data shows that for fashion e-Commerce sites, the mobile bounce rate is 41.4%, compared to 33% on desktop.
Brands that can crack the formula of inspiring on a small screen will be able to tap into this eager audience. And fashion lovers have very specific needs when it comes to information. For Jessica, that's "great photos of the product and a detailed sizing chart so I know exactly how an item will fit." Gitta says "the entire design" as well as the site's "pictoral language" are crucial to her experience.
Understanding what matters to users is key to delivering the experiences that can help them meet their digital goals. AI-driven analytics can help brands decipher consumer expectations and needs, and keep pace in the world of fast fashion, ensuring all those runway looks get the digital attention they deserve.
See you in the front row!