Europe's #1 Rail Travel Retailer Hops On the UX Train – es
Planning and booking a trip online has never been so easy. But in the fast-evolving landscape of digital retail, what was good enough yesterday might not meet the expectations of tomorrow's customer.
With over 80 million train ticket sales per year, Voyages-sncf.com is Europe's #1 train ticket retailer. The official distribution outlet of French rail operator SNCF, the site allows customers to map out their journeys through Europe, searching fares and schedules for hundreds of destinations.
But keeping the #1 spot means staying ahead of the curve — a hefty challenge in this new age of instant gratification and convenience where Generation Z dictates what's next in terms of digital experiences.
Digital teams at Voyages-sncf.com know that understanding the needs of an increasingly tech-savvy community of travelers is key to improving the site's conversion rate, and building up brand loyalty. And since one-third of all transactions processed by the site are made on mobile devices (two-thirds of their traffic distribution), it would seem that today's travelers want to book their journeys while they are already on the go — an imperative that comes with its own set of challenges.
Here, the challenge is also an opportunity for growth. For Pascal Lannoo, head of digital customer experience at Voyages-sncf.com, harnessing the shift to mobile is central to the brand's success. "How to leverage an awesome customer experience into a real business opportunity is really our daily focus at voyages-sncf.com," says Lannoo.
WITH OVER 80 MILLION TRAIN TICKET SALES PER YEAR, VOYAGES-SNCF.COM IS EUROPE'S #1 TRAIN TICKET RETAILER.

Optimizing a platform to increase sales is easier said than done. And successfully adapting a site so it reflects the active lifestyle of today's rail travel customers implies a pretty sophisticated understanding of said customers. What they want, how fast they want it, which hoops they will jump through, and which ones they won't.
"Customer behavior is not something that you guess," says Lannoo. "You really have to measure it and to observe it."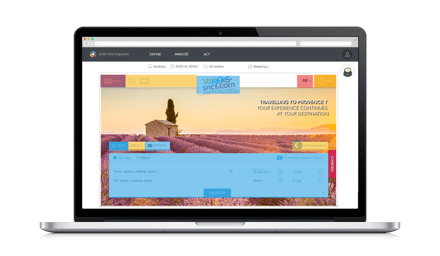 In order to build up a precise picture of how their customers were using the portal, Voyages-sncf.com used the ContentSquare digital experience insights platform — a tool that allows companies to visualize user navigation patterns and optimize to offer a seamless digital experience.
This level of in-depth, data-driven analysis helped teams identify friction points and flag areas that needed to be improved. Today, ContentSquare is a go-to tool for business and customer experience teams at Voyages-sncf.com, and more than 70 people across the company rely on the solution.
To watch the full interview of Pascal Lannoo, head of digital customer experience at Voyages-sncf.com, click here.